He was world champion in 2018. Now, after fleeing the 2019 World Championships in terror, Iran's top judo fighter is in hiding. First, he deliberately lost.
3 September 2019
He's at present in hiding at an undisclosed location in Germany, with his girlfriend.
He confirmed he had deliberately lost two fights on the orders of the Iranian security, and was terrified when warned that security personnel were at his family's home in Iran, waiting for the result of his flights. Iran's mullahs have ordered all of its sportspeople to avoid taking part in events where there are athletes from its arch-enemy Israel.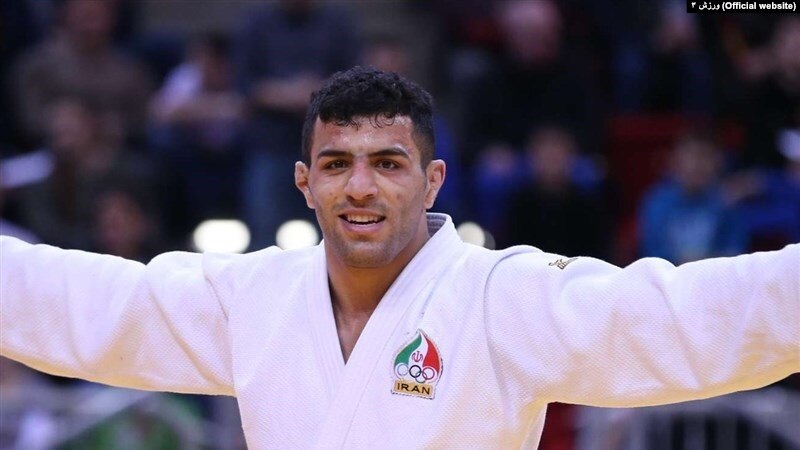 At the World Judo Championships which finished last Sunday in Tokyo, Mollaei, aged 27, had defiantly gone ahead and taken part,while another Iranian fighter had pulled out. Then Mollaei stormed through to the semi finals in his weight division – only to hear more threats from Tehran. He chose to go ahead with his semi-final fight, but deliberately lost. He also "only gave ten percent" so he would lose his third-place play-off. That meant he would not be seen posing on the podium lower down than the Israeli, who he knew would now come first or second.
The Israeli fighter Mollaei was supposed to battle in the final, had he won his semi, went on to with the World Championship gold. Saki Muki said: "I want to hug Saeid. He's a great guy and I hope we will do battle soon."
The next likely chance may be in Tel Aviv in January, when there is an IJF Grand Prix event.

Marius Vizer, the pugnacious president of the IJF, says Iran has broken the strict codes of the Olympics and of all sports federations that all members must compete against all athletes from any country.
He says Iran may be suspended in an emergency meeting of the IJF for its violation of the code and the threats made to its judo fighter. There is speculation Iran may be barred altogether from the 2020 Olympics in Tokyo.
Vizer, a Romanian who himself fled to Austria before Communism collapsed in his home country, has taken on the entire Olympic Committee leadership in the past – over its waste of money and resources and its nepotism and corruption.
Iran's regime has claimed the fighter fled in a pre-arranged plot and accused the IJF President of aiding him.
An IJF press release today (3.9.2019) says the Iranian athlete is involved in "a fight for life".
Here is its account and photos:
Mollaei's next fight was against the Olympic champion, Russian Khasan Khalmurzaev. A few minutes prior to the contest, the Iranian coach received a call from his country.
On the other side of the line, the Iranian first deputy minister of sport, Davar Zani, gave him the order to withdraw Mollaei from the competition to avoid a potential contest between Iran and Israel. A demand accompanied by a double threat against Mollaei and his family.

Mollaei literally collapsed, and burst into tears. The emotion was heartbreaking for those backstage who witnessed this.

[An IJF official] said: "I spent the day with him. I escorted him everywhere. Helped him with translation.
"I saw the fear in his eyes, the terror of having to face the consequences of a situation that was beyond his control. He was totally helpless. It's terrible to witness this…"

The World Champion asked to meet IJF President, Marius Vizer, who immediately welcomed him in his office. After hearing what had occurred, Mr. Vizer assured him of his full support regardless of his choice.
Mr. Vizer explained to him that he had to make the most important decision of his life: obey and return to his country or risk everything and fight for freedom and dignity. His Judo values showed him the way. He made his choice and rushed directly to the tatami to face the Olympic Champion.

The emotional stress created by this extraordinary situation was surely not the best way to prepare a contest, especially against an Olympic Gold Medalist. Mollaei proved to be a stratospheric champion by eliminating the Russian, and also winning his next contest against the Canadian Antoine Valois-Fortier, Olympic bronze medalist in the quarterfinals.

…For the Iranian authorities, Mollaei had already gone too far. Having received several calls all day to pressure him, there was already no turning back and he knew that he couldn't go home. Moreover, a delegation from the Iranian Embassy came to the venue. One delegate illegally, by means of the Iranian coaches accreditation, trespassed into the athlete warm up area to approach him with messages of intimidation.

Just prior to the semi-final, Mollaei's coach received another phone call, this time from the Iranian Olympic Committee President, Reza Salehi Amiri. He put the phone on speaker and video, so the World Champion could follow the conversation.
Iran's National Olympic Committee President explained that National Security were at his parents' house. Mollaei's friends from Iran also texted him that people came to his house and asked his father to tell his son to follow the law or he would have problems.
The fear, the emotional heights that the Iranian reached at that precise moment, and the time that had passed since the preliminaries, put him in an incredible state of stress. Escorted everywhere by IJF and local organizing staff, his belongings and passport being secured, he went on the mat for his semifinal but revealed after the competition that he couldn't compete at his normal level.

In an exclusive interview given by Saeid Mollaei to the IJF, he declared: "I could have been the world champion. I've been training hard, making lots of efforts. Today, I fought and won against an Olympic champion, an Olympics bronze-medalist and other opponents. I beat all of them. I even dreamed of the championship title today. But that was not my fate: I could not compete because of the law in my country, and because I was scared of consequences for my family and myself."

Mollaei explained: "Today, the National Olympic Committee of Iran and the Sport Minister told me to not compete, that I had to comply with the law. I am a fighter. I want to compete wherever I can. I live in a country whose law does not permit me to. We have no choice, all athletes must comply with it. All I did today was for my life, for a new life."

"I thank God the Merciful and I thank Mr. President Vizer from the bottom of my heart. He told me he would guarantee and help me to go to the Olympics. So that my dream will come true and I can become an Olympic champion. I need help. Even if the authorities of my country told me that I can go back without any problems, I am afraid. I am afraid of what might happen to my family and to myself."
"President Vizer guaranteed that I can continue to compete. I am an athlete, not a politician nor been ever involved in politics. I want to comply with the Olympic Charter."
Saeid Mollaei concluded: "I was lost and afraid."

Today he cannot return to his country and awaits a life of exile and uncertainty regarding the future of his family. All he wanted was to be a judoka and become a champion, to represent his country with pride in international competitions, face the best and give his best, like everyone else and play fair. Mollaei lost a competition in Tokyo but he chose judo and won the contest of his life, by Ippon.

Saeid Mollaei is currently under risk and the IJF is looking forward to finding the best solution to allow a champion to continue to do what he does best: to compete no matter what and without any kind of discrimination.

His fight for life has just started. He won't be alone, the whole judo family will stand next to him.
President Vizer said "The IJF is never in favor or against any country, we are here to defend the integrity of the sport and the sport values for the promotion of sport as a driver of friendship, unity and peace in the world. The Olympic Charter is the supreme value in the sport and we are here to protect it."