The Hotel du Lac in north Italy is coming back to life after Covid-19. It's in Lombardy, epicentre of Covid-19 earlier this year. It's idyllic now. Apart from one thing. Not enough tourists. Yet.
7 July 2020
On the open-air terrace of his parents' hotel, with magnificent lake views, Daniele Leoni, 29, is serving drinks and canapés, attired in shorts and a smart shirt. Tattooed on his right calf is a Union Jack and an Italian flag – displaying how important British visitors have been to this tourist haven, and also revealing his own family roots: his mother Jane Garnett is Welsh, and his father Luca Leoni is a local Italian.
The Hotel du Lac is by far the best 3-star hotel we have ever stayed in, not just for its very pleasant rooms but primarily because of its stunning lakeside location. (It turns out, by the way, that the hotel by the same name in the prize-winning novel is actually in Switzerland.)


Even though the quarantine was lifted on July 10th, seats on flights between northern Italy and Britain are plentiful and cheap – Wizzair for example has been showing €9.99 for its daily single from Milan to London.
After months of Covid closure it's already coming back to some sort of normality – but fewer than half of its 40 rooms are occupied.

The night before we arrived,, though, Italians, Swiss and Germans drove in and the whole place was full and abuzz.
So two nights later the co-owner Luca — who had rashly promised to skinny-dip in the lake if his hotel was filled to capacity for even one night — happily fulfilled his pledge.
It's about two thousand years since Pliny the Younger, the famous Roman writer, owned two villas around here, called Tragedy and Comedy. He used to compose his books, hunt and (as he wrote) fish from his villa's bedroom window.

A mere 1,800 years later Bellagio was 'discovered' by the British as a tourist resort. But they are not here in their droves today.
The British have been kept at bay by a misplaced fear that, as it is in Lombardy, coronavirus must be rampant.
It isn't. Even though the death toll in this gorgeous little lakeside village of 3,800 souls was officially 20, it's a misleading figure..
"This Covid fear now is just a myth," avers Luca, who owns the two hotels along with his wife Jane. "The truth is: only one person in Bellagio died of Covid, the rest were ill anyway and it can be said they died with Covid, not of Covid."
Even when walking through the lakeside streets or up the cobbled alleyways people usually don facemasks. But these are sometimes worn dangling from the ears and around the chin.

In truth, they are not really essential any more. The Covid figures for Lombardy are dropping daily – so it's probably safer to be in Lombardy than most of Britain, says Luca.
And the officials are still reassuringly vigilant. Getting on to any of the open-air ferries, let alone inside a hydrofoil, the crew carefully monitor adherence to the facemask rules and point a temperature gauge at the forehead. "During the lockdown the carabinieri even monitored people who put their party pictures on Instagram," says Luca. "They got fined."
Fara, 42, from Harrow, north London, was the only British person we met in three days alongside Lake Como.
She says she is delighted she came. "We deliberately chose Italy, now while it's quiet," she says. "It's reverse psychology. I feel safer here than on a London tube train." She adds. "It's the perfect time to visit places that are usually overcrowded, like Venice or even here."
The only minor disappointment she and her Dutch partner Frank feel is that hoteliers and restauranteurs are not dropping their prices – unlike the cut-price deals Frank says he successfully bargained when the SARS epidemic hit Asia.

"Yesterday we tried next door at the famous Hotel Villa Serbelloni but it was 650 Euros a night for us," says our fellow-British guest. "We asked for half price and they refused. But we're so happy here now."
If money is no object, a night or two at the grandiose Serbelloni, a grand villa that opened its doors to visitors in 1873, is an enticing prospect. We made do with a short visit.
The chandeliers in its huge long ballroom ( now the breakfast room ) were lit by gas tubes from the ornate ceiling as far back as the 1880s. Winston Churchill, the Rothschilds, Clark Gable, Al Pacino, John Kennedy, George Lucas (who took a whole floor) and a host of celebrities, royals and world leaders have stayed here.
There's an under-hotel boat garage, and a huge swimming pool stretches out alongside the lake.
It employs a pianist to welcome a trickle of guests on its terrace and to its nautically-themed tea-room. Yet in these straitened times the Serebelloni has had to dispense with two other musicians, the manager informs us.
We find the Hotel du Lac more enticing and far less pretentious.
As the sun begins to set over the deep blue lake, co-owner Jane points wistfully to their 29-room sister-hotel Bellagio, shuttered though resplendent in white.
"We won't own it soon," interrupts Luca, displaying a dry sense of humour. "The bank will." He was joking — I think.
And even the Covid-imposed restrictions have had their bright side, says the his wife, Hotel Du Lac co-owner Jane.
"It's been wonderful being in our hillside home during the lockdown spending precious hours each day with our three boys. But of course from a business point of view it's been a very worrying time," she says, as we sip a typical Italian drink, an Aperol spritz, on the hotel's breathtaking fifth-floor Terrazza Leoni.
Since that conversation, business has been improving. Occupancy at the Hotel du Lac by the 24 July had reached 65 per cent, and the Hotel Bellagio is to reopen at the start of August, Luca says.
Hotel du Lac staff have been returning gradually from furlough (considerably less generous in its handouts than the British version). The receptionists and waiters, always masked, are eager to help.
Although jobs are being lost, new careers beckon — for some. Jane and Luca's middle son Francesco, 28, is doing a roaring trade through an elite catering business _babachef_. He arranges and cooks at lavish picunique picnics held in the lush gardens of private villas that bejewel the lakeside or its steep tree-studded slopes.
A big blow to tourism in this region is the absence of big-spending Americans. Large numbers had been attracted here by its upmarket reputation.
Many Americans have also read that George Clooney has a delightful home on the lake. So does Richard Branson. Tourists often try to sail close in privately hired motor-boats, till private security guards shoo them away.
A big American influx is at least in part attributed to the opening in 1998 of a massive 3950-room hotel-and-casino complex in Las Vegas. Known as The Bellagio, it was a theme-park-style copy of the Bellagio village.
Billionaire developer Steve Wynn had been so enchanted on a trip down Lake Como that he built a replica of Bellagio in Vegas. He embellished it by what was at that time the world's biggest musical dancing fountain, set in an eight-acre artificial lake.
"American tourists often ask us in bewildered tones: 'So where is that huge fountain in Bellagio that we've seen in Vegas?' " says Luca.
"Some even expect the sounds of Whitney Houston or Luciano Pavarotti to boom out across Lake Como – just as they do at the fountain and lake in Las Vegas!" Jane adds.
Jane says most Americans soon became attuned to the real wonderland here, and returned again and again — till this year's Covid restrictions.

Luca, who is also the village's deputy mayor, is keen to emphasise that there are attractions for youth too, including kayaking and water-skiing. There has recently also been a Saturday evening disco that — until the lockdown — would attract more than a thousand young people,
The traditional sport on the lake comprised stand-up rowing, with oars pointing downwards to propel the boat forward. But the British taught the lake locals to row sitting down and to do so backwards – the way it's done at the Olympics.
They got rather good at it here. Bellagio's 3,800 population, Luca proudly tells us, has, astonishingly, produced five world champions.
Three locals living in a hamlet within a mile of each other amassed 20 world individual titles between them. The rowing craze had been ignited by two other local youngsters, who had unexpectedly won the world pairs heavyweight title (held in Britain) in 1986. Photos of all five champions can be seen on the walls of their local hamlet.
But Bellagio and other villages cannot simply look back on past glories or achievements. They need new ways to attract tourists.
One method is for the villages on the lake to lengthen the season. Aiming to do so, they are creating a Christmas winter wonderland.
"We'll be shining lights on key buildings, churches and landmarks," enthuses Luca. "We've got 32 villages already lined up and more are being added."
Snowy hills and mountains, and lights beaming on the shimmering lake, villages and villas, seem to provide a beautiful backdrop to an unbeatable winter attraction for late this year— if the villages can mount a concerted and convincing publicity campaign.
The illuminations will link up with a month-long festival around Christmas-time taking place each year at the southern tip of the lake, in the bustling town of Como.
Around the central area of the lake there are some fascinating pieces of history to be discovered, including locations marking two contrasting world leaders who each met a violent end.
Along a delightfully-flowered corniche, a monument depicts the slain US president John F Kennedy. Why is it here? we wonder.
Kennedy, we are told, came to Bellagio by helicopter on his way back to the United States after his famous anti-Communist 'Let them come to Berlin' and 'I am a Berliner' speech in late June 1963 – less than five months before his assassination.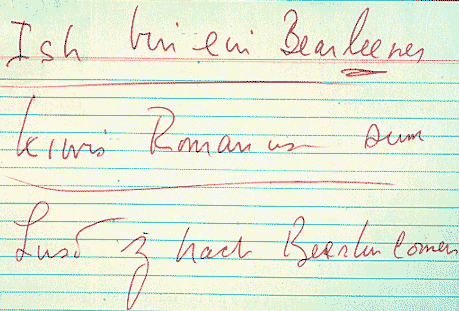 Locals recall how one day the American president, under strict security at the Hotel Villa Serbelloni, escaped his own secret service guards and the Italian carabinieri, and strolled alone into the Bellagio village square. Hearing police sirens, the locals thought he was a fugitive. They soon realised who he was and, as it pre-dated the selfies era, demanded handshakes — till panting security men arrived.
"I was there – my mother was carrying me in her arms," Luca says.

And just across the lake a small black cross outside the gate of a private villa marks another historic moment: the spot where, in March 1945, Italian wartime dictator Benito Mussolini and his mistress were shot dead.
They had been captured by Italian partisans in a lakeside village further north, and were being driven southwards. British and American troops were racing northwards intending to take the defeated dictator into protective custody, but the partisans decided to execute them both instead. (Their bodies were later driven to Milan and hung upside down in a public square.)
Two of Lake Como's most delightful botanical gardens are close by- one alongside Bellagio, the other about a mile away on the other bank of the lake.
The Villa Melzi was built by a man who became Napoleon's deputy when he conquered Italy. The more formal Villa Carlotta, established by the man who was not selected by Napoleon as his Italian deputy, lies on the opposite bank of the lake in Tremezzo (a quick public boat-ride away).
Fierce rivals, the two estates strove hard for decades to outdo each other in floral and arborial magnificence.
A descendant of Count Melzi still visits his privately-owned estate once a week, earnestly engaging, horticultually, with his tiny staff of four gardeners. (The Villa Carlotta was seized by the Italian state during World War One as it was owned by a noble family from the enemy state of Germany. Now publicly-owned, it boasts eleven gardeners, all listed by name on its website.)
As the Italian Covid-19 lockdown was eased, the Villa Melzi gardens were opened to the locals for free. Many, says a local tour-guide, were open-mouthed at the beauty that lay so close to them, but had usually been appreciated only by tourists.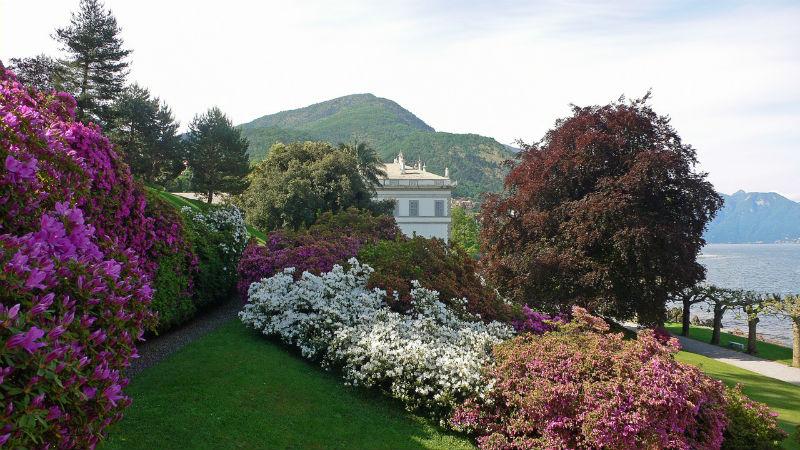 When we visited, things were not back to normal even for public facilities. Alongside the Villa Melzi gardens, a Fascist-era Lido swimming pool was still closed, with an empty children's slide projecting forlornly into the shimmering deep-blue lake.
As soon as the British-imposed 14-day quarantine requirement ended, Jane headed back to Wales to visit her sick mother. Mrs Garnett and her husband had spent their honeymoon in the Hotel du Lac and had returned, in an old Jaguar, to celebrate their 25th en famille. (By coincidence Jane's parents occupied the very same room, number 12, that we have inhabited for three very special three days here.) That's how a bored Jane met (and later married) the young Luca.
Lake Como attracts visitors year after year – none more enthusiastic than hotelier Jane's extended family, from Prestatyn, north Wales. They have become diehard Lake Como and Bellagio enthusiasts.
After this short trip, so have we.
HERE'S A DESCRIPTION BY ANOTHER WRITER EIGHTEEN YEARS AGO, IN THE LA TIMES. APART FROM THE EFFECTS OF THE CORONA-VIRUS, NOT MUCH HAS CHANGED.
BELLAGIO, Italy —
Tell friends that you will be spending your vacation in Bellagio, and they are likely to assume you're talking about the glitzy hotel on the Las Vegas Strip, the one created by entrepreneur Steve Wynn.
Wynn, former chairman of Mirage Resorts–now MGM Mirage–was inspired by the northern Italian village of Bellagio in the building of his grand hotel. Ironically, the town is less well known, even to Italians, than its popular American namesake.
No one arrives in the village–tucked onto a remote corner of the shore overlooking Lake Como–by chance. And from the moment you arrive, it's easy to understand the allure of the little town that draws visitors from around the world and compels them to return.
Your jaw drops at your first panoramic view of the majestic Italian Alps, juxtaposed against the large expanse of blue water in Europe's deepest lake. With an unspoiled grace and charm, the town of Bellagio offers its guests a rare opportunity to experience a style and pace of life that has remained unchanged for decades.
Since 1873, aristocrats, royalty, statesmen and stars of the silver screen–such as Winston Churchill, King Farouk, the Rothschilds, John F. Kennedy, Clark Gable and Al Pacino–have made the Grand Hotel Villa Serbelloni their holiday home. The hotel still serves a well-heeled but low-key clientele.
For the past three years, my husband, Jerry, my teenage son Andrew and I have spent our summer vacations at the Villa Serbelloni's Residence l'Ulivo. Housed in an ochre-washed building with green shutters, it is in the same private park as the main hotel. Each of the 13 apartments offers the comforts of home on the grounds of the only five-star hotel in Bellagio. We set up a household and live much as the locals do.
The apartments are furnished simply, but guests at the residence enjoy the same amenities as those in the hotel–including use of the two hotel restaurants, indoor and outdoor pools, tennis courts, spa, gym and cardio-fitness center. The apartments share an inviting patio that beckons guests to sit and read in the shade of an umbrella by day or to watch the stars and the lights of the nearby towns of Varenna, Tremezzo, Menaggio and Cadenabbia at night.
We meet the same neighbors, who return each year from England, Wales, Germany, Australia and the States. We have become friends, sharing news of discoveries around town and exchanging e-mails during the winter.
A beautiful pool, with a large deck and an outdoor bar, is positioned between the Grand Hotel and the lake's small, sandy beachfront. We sit on chaises at the beach facing the lake for hours and lose track of time. We glimpse the miniature towns nestled comfortably into the green hillsides across the lake and find it hard to stop thinking about the breathtaking natural beauty. We adjust to the slow rhythms of the traghetti (ferries) as they traverse the lake. We have the sense that we have finally found paradise.
Our own newly acquired rituals remind us that we are, indeed, at home in Bellagio. Each morning my husband and I take a walk down the winding street steps away from the hotel grounds. The heart of town, and its historic center, is called Il Borgo. It comprises two narrow one-way streets that are accessible to cars, the Via Garibaldi going south and the Via Piazza Mazzini going north. The rectangular piazza has a shopping arcade that overlooks the port.
Like the more daring natives of the town, we walk down the middle of the road with seeming impunity. Sometimes frustrated drivers honk their horns at us. Occasionally the controlled chaos of the street is punctuated by a motorbike that tries to pass a parked truck delivering Chiarella bottled water.
The two roads are separated by a series of narrow pedestrian alleys with steps, called montées. They run perpendicularly, linking the top level of the town to the lower level at the lakefront. Red geraniums and bougainvillea vines hang from window boxes and balconies above the stairs. It's hard to miss the animated banter of families or the fragrant aromas escaping from kitchen windows at lunchtime.
We take a different path each time we go up or down, pausing to take pictures of the beautiful architecture.
The largest of the stairways is the Salita Serbelloni. Busy shops, restaurants and bars flank the wide stone stairs that the locals call Il Fossato (the ditch). During medieval times, the ditch was used to defend the town from enemies. Each step is made of small stones that have lost their edge from water or wear. When you make the steep climb from bottom to top, shop windows with colorful silk scarves and handmade leather goods provide a convenient excuse to pause to catch your breath.
Each morning we stop for what is perhaps the world's best cup of cappuccino at Pasticceria Sport on Piazza della Chiesa (Church Square) and order a cream-filled doughnut. Long ago the bar was a monastery. Now its bistro tables and chairs on the street provide a perfect spot for people-watching.
We continue down the street and stop along the way to purchase provisions for lunch at the apartment. The Panificio Gandola has freshly baked breads and rolls. We go there first because they sell out quickly. The negozio di frutta (fruit store) has ripe tomatoes that taste as good as they smell and succulent black plums that are unlike any we have ever tasted. Then we go to the Alimentari Gilardoni Michele grocery for some prosciutto and local cheese.
For just a few dollars, we can savor the bounty of the region. Multilingual shopkeepers from one family work in the same stores for generations and have perfected the art of making tourists feel comfortable. After a couple of days, they recognize us and ask how our day is going–"Come va?" Would we like to sample the cheese that is more morbido (soft) or try the special salame hanging in the window?
The simplicity of the day is pleasantly jarred by the reminder that we are living within a resort enclave. My son and his friend take advantage of the racquetball courts in the health club and play tennis on the outdoor courts terraced into the hill above the residence. In the heat of the late afternoon, the boys run down to the pool to refresh themselves before dinner.
Bellagio, sited some distance from major roads, is safe enough and small enough–it has a resident population of 3,000–that young teens can independently experience life "in town." They take walks to La Punta, the point, to see where the lake splits into three branches.
They watch the small fishing boats bringing in lavarello, the fish that seems to be on every restaurant menu. They shop for little gifts for their friends in the kitschy shops near the port.
The stores attract a stream of visitors who arrive by boat to have lunch and visit some of the tourist sites. On Tuesdays the boys search for bargains at the once-a-week open-air market that seems to be a favorite with Italians from surrounding towns.
Dinner plans vary. One night we cook a simple meal of fresh pasta with porcini mushroom sauce, all ingredients purchased at the nearby mini-market. For a first course we have delicious insalata mista, assorted greens and radicchio topped with olive oil that is a product of local trees. For dessert we eat a few baci di Bellagio, sinful butter cookies filled with chocolate, which we've bought from the pastry shop up the hill. Another night, the boys bring in thin-crust pizzas from Babayaga, a steakhouse and pizzeria just outside the hotel gate. We order two pizze margherite with cheese and tomato, another with spinaci and another with salsiccia, sausage. Each comes in a small box that we use as a disposable plate–no dishes to wash. The boys have given up soda and drink acqua minerale (mineral water), either frizzante (with carbonation) or naturale.
Each evening ends with a trip to Il Sorbetto, the gelato (ice cream) shop where the boys can connect with their friends at home on the Internet for $6 an hour. Before the shop closes an hour later, they top the evening off with a cone. Renato, the kind man who owns the shop, and his wife, Ida, who makes the gelato, have struck up a friendship with my husband. They offer to run a tab so the boys can pay their bill at the end of the week.
The night when we are to pack for home, we decide to treat ourselves to dinner in the "important" restaurant at the hotel. We dress up for the first time. The boys, just 14, are still permitted to wear a collared shirt and slacks, but men are required to wear jackets in the dining room. On a glass-enclosed terrace, waiters in white jackets carefully lift silver covers in unison. We listen to the same live classical music that has been played in this room for decades and watch the sun slowly descend.
Despite its treacherous streets, Bellagio is definitely a walking town. Except for a few short drives into the mountains to see the vistas from above or to visit Silvio's, a fresh fish restaurant outside town, our car remains parked in the lot outside the residence. Two weeks have passed too quickly.
As we leave Bellagio and head for the ferry that will take us across the lake to the road that leads to Milan's Malpensa Airport, we stop at the main hotel to check out and say goodbye to Luciano, the concierge. With no hesitation, we tell Antonio, the reservations manager, that we will be returning next year.