English patients are now increasingly at risk of catching Covid — in their hospital beds. And the rate of this phenomenon is rapidly rising. It's more than doubled in just one week.
14 October 2020
Covid cases caught after patients have been in hospital for other reasons have more than doubled in a week. They're shooting up even faster than the alarming rise in Covid-19 patients coming in from the general community.
One estimate –- provided by Carl Heneghan, Professor of Evidence-Based Medicine at the University of Oxford, but disputed by other experts — is that 25 per cent of hospital beds in England are now filled with patients who caught the disease while already in hospital. That's defined as eight or more days after admission.
The latest Public Health England statistics seem to indicate that the official figure is just over 15 per cent – which is alarming enough. In the seven days to October 6, there were 360 Covid cases probably caught inside hospitals compared with 2,337 probably caught in the general community. That means the increase from the previous week was a staggering 147 percent (while the Covid infections sent to hospital from the general community only increased by 41 per cent).
Looked at on a monthly basis, the figures are again worrying. Compared with August, the month of September's infection rate inside hospitals increased from 178 to 502, a rise of 280 per cent. That's a slightly faster rate of increase than in patients admitted due to infections of Covid from the general community (250 percent).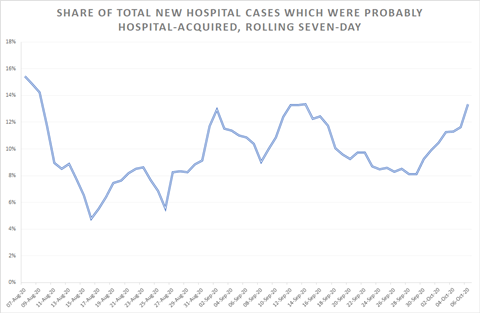 It's likely that these internal hospital-spread Covid-18 cases are coming mainly from NHS staff rather than from patient to patient. It is also possible that a staff member may catch it from a patient and then pass it on (while infectious but not yet detected) to another member of staff or to a patient).
"It may raise concerns that the spread of Covid in hospitals is impossible to control even with new measures in place, and has prompted new calls for routine testing of asymptomatic NHS staff, in case they spread the virus to patients," writes the HSJ, a journal aimed at Heath Service employees.
Routine testing of NHS staff, announced by the government, is likely to be given at first only to NHS staff who are hospital-patient facing. Even this will make the roll-out of testing for the general community more limited, some experts say.