My father was innocent and "the most honest man I know", says his daughter Corinne. World football's former supremo Sepp Blatter has been found not guilty on a corruption charge in a Swiss Court, along with former megastar Michel Platini.
8 July 2022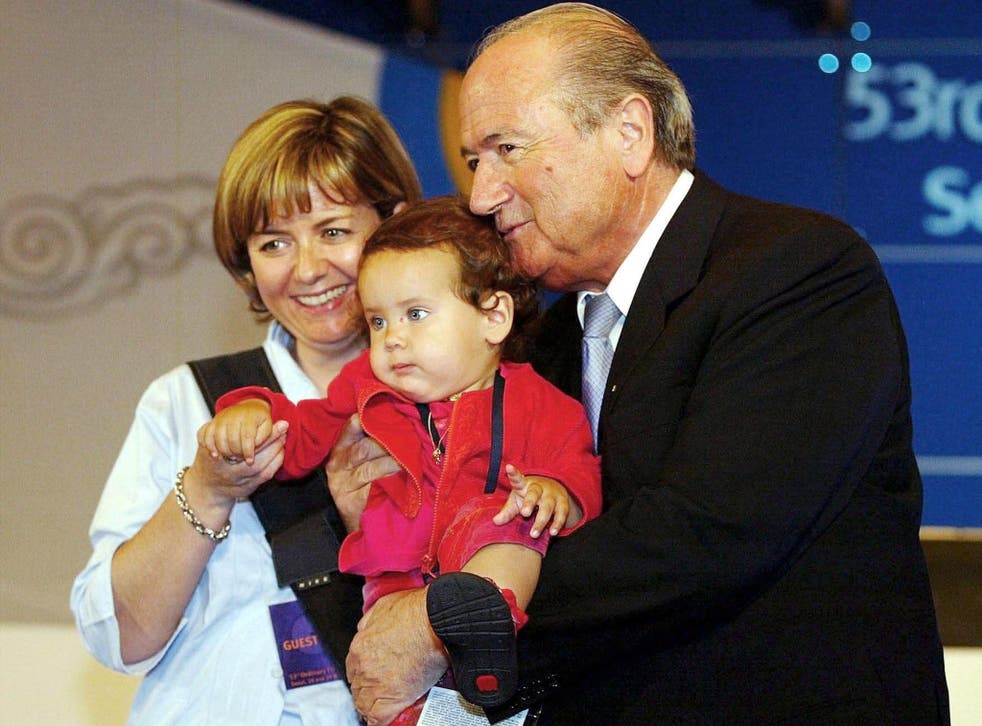 FIFA's former President Sepp Blatter has been vindicated and now "feels relieved and free", his daughter and chief adviser Corinne Blatter-Andenmatten, who is also her father's chief adviser, told Correspondent.World.
He had chosen to resign in 2016 to save world football from financial ruin, she added.
Blatter and Michel Platini, the former boss of European football and megastar player, had been charged with fraud over a payment by FIFA of two million Swiss francs ($2.19 million), the Office of the Attorney General (OAG) of Switzerland said.
Despite being cleared, Blatter, 86, remains banned from football until 2028, imposed for another allegation in 2021. Platini, 67, has served his ban.
Blatter's daughter said her father had only stood down in 2016 from his supremo role in FIFA "for the good of football". "He told me he was afraid that, if Fifa lost more credibility, sponsors would run away," she told Correspondent.World in the remote Swiss town of Visp.
She said her father had wanted to protect FIFA's injection of funding into smaller nations. "This would not happen if there was no more money."
We met up in the Bistro Napoleon owned by her husband Dominic.
A close personal adviser to her father, who speaks to him virtually every day, Ms Blatter said her father felt the media campaign against him had also led to his sudden career-ending resignation.
"The media turned against him," said Corinne. "It was making his job impossible."
Ms Blatter said her father felt he had done nothing criminal. She said besides the Swiss investigation, her father also rejected efforts to indict him being made in the United States. She said the FBI has no grounds to investigate him.
"He was not afraid at all of being prosecuted by the Americans. He is a Swiss citizen. He has never broken any American law, or any other law.
"I'm sure of that because I know my father. He is the most honest person you can find."
She suggested his generosity of nature may have been misinterpreted. "As far as I know him, he is not corrupt. He is determined, yes, and generous. He would give his last shirt to help someone. And he takes time to listen to anyone, whether he's a worker or a bank director."
The Swiss Office of the Attorney General had accused Blatter and Platini of "fraud, in the alternative of misappropriation, in the further alternative of criminal mismanagement as well as of forgery of a document."
Platini asked to be paid one million Swiss-francs (£816,000) per year but Blatter said that the global governing body could not afford that salary. Instead they signed a contract for 300,000 Swiss-francs a year. According to Blatter, they had a verbal agreement to pay Platini the rest of the money at a later date. His advisory role ended in 2002.
There was no mention of an additional payment in the signed contract
"I knew when we started with Michel Platini that [300,000 Swiss-Francs] is not the total, and we would look at it later," Blatter said when giving evidence, adding that they shook hands on a later payment. "It was an agreement between two sportsmen. I found nothing wrong with that."
Platini told the court: "I trusted the president, and knew he would pay me one day."
The 66-year-old said that he believed the investigation into the payment arose because FIFA were determined to ensure he could not replace Blatter. "What FIFA did to me was scandalous," he told the judges. "And the goal was that I didn't become president of FIFA."
The Blatters' home village nestles in the gorgeous Alpine valley where she and her father grew up – about half an hour by a winding mountain road to the Italian border. The villagers share a local dialect and a subculture of solidarity, with no-one willing to condemn their most famous son.
"I have known him and played football with him over there since we were kids," said Niklaus Furger, president of the Gemeinde, or community, comprising 8 thousand people.
Photos of football players going back decades adorn some of the walls, along with a red-ribboned plaque.
She refused to answer questions about whether her father should have acted to prevent the corruption inside FIFA that led to the arrest of seven executive members of his Board. The men were snatched in early morning raids just before the FIFA congress in Zurich in 2016.
Blatter had said he was going to "go on and on like a mountain goat". Yet he announced his resignation a few weeks after being re-elected.
Ms Blatter, who lived five years in Australia and runs a language school, is his only daughter – from his first of his three marriages.
"I love my father. Being there for him, helping him, showing him the good sides of private life."
Ms Blatter said Platini, the former French football star who became president of European football's governing body Uefa, had plotted to oust her father.
"It had to be a conspiracy. During the congress, Michel Platini's words were absolutely below the belt. Don't tell me that there was not a conspiracy," she said.
"I know my father. He is the most honest person you can find."
Blatter and Platini were indicted on Tuesday 2 November 2021 following a six-year investigation into the payment that Blatter authorised in 2011. Blatter and Platini said the payment was for backdated salary.

"This payment damaged FIFA's assets and unlawfully enriched Platini," Switzerland's OAG said.

The Swiss investigation was opened in 2015 amid a series of alleged scandals which engulfed FIFA. The affair led to a FIFA ethics investigation, following which both men were banned from the game and forced to leave their positions.

The OAG accused Blatter and Platini of "fraud, in the alternative of misappropriation, in the further alternative of criminal mismanagement as well as of forgery of a document." Platini, who captained France to victory in the 1984 European Championship, was also charged as an accomplice.

Blatter and Platini were both banned in 2016 from soccer for six years over the payment, made with Blatter's approval for work done a decade earlier. Both have denied any wrongdoing.

"I look forward to the trial before the Federal Criminal Court with optimism and I hope that this story will come to an end and that all the facts will be dealt with properly," Blatter said in a statement.

"Regarding the payment of the sum of two million francs from FIFA to Michel Platini, I can only repeat myself: It was based on an oral contract that regulated Platini's advisory activities for FIFA between 1998 and 2002," he added.

Blatter said the payment had been delayed because FIFA was not able to pay the entire amount and that Platini only made his claim for the money in 2010.

The former FIFA president said that the payments had been approved by "all responsible FIFA bodies" and that Platini had paid tax on the amount "at his Swiss place of residence".

Platini said he had only heard news of the trial through media reports.

"These methods are an extension of the prosecutor's relentlessness to unduly implicate me in a case in which my entire good faith has been recognised. I fully challenge these unfounded and unfair accusations," he said.

Platini's lawyer Dominic Nellen said he was confident the former France and Juventus midfielder would prove his innocence.

"It is shocking that the Federal Prosecutor's Office brought charges against my client without hearing the witnesses we have requested during the procedure," he said.

"From the defence's point of view, it is clear that the investigation should have been discontinued long ago. There are enough witness reports and documents in the case files that prove my client's innocence.

"I am 100% confident that we will be able to prove my client's innocence in court," he added.

The OAG said its investigation revealed that Platini worked as a consultant for then FIFA president Blatter between 1998-2002 and that an annual compensation of 300,000 Swiss francs was agreed in a written contract.

The OAG claimed that Platini had sent an invoice and had been paid in full but the 66-year-old former France international continued to demand payment.

"Over eight years after the termination of his advisory activity, Platini demanded a payment in the amount of two million Swiss francs," the OAG said.

"With Blatter's involvement, FIFA made a payment to Platini in said amount at the beginning of 2011. The evidence gathered by the OAG has corroborated that this payment to Platini was made without a legal basis."
At the time of Blatter's resignation a Swiss newspaper, Blick am Abend, ran a front-page photo montage supposedly showing Blatter grimacing and trying pull prison bars apart. "Will Blatter end up in a Swiss jail?" was its headline.
The answer is: No.