Lebanon topples its prime minister. Barricades before… and blockages after. Putting the rev into revolution.
29 October 2019
Made of mud or lined with people, or both, the barricades had successfully blockaded all exits from the capital city . The aim, said the protesters, was to add pressure to a faltering and stuttering regime.
In part this was a response to an attack earlier in the day against demonstrators in the centre of the city. Over 100 hardline Islamists had destroyed their tented village and had beaten demonstrators sitting on a bridge.
In the late afternoon people returning from work found themselves trapped willing or unwilling bit-actors in high-stakes political machinations.
At these barricades south of Beirut airport, many motorbike-riders heading south had already turned round – but car-drivers and truck-drivers could not find any space to swivel, let alone to weave their way back.
More and more motor-bikers braved the rather dangerous route – over the top…while cars and trucks remained at a standstill.
Strong arguments broke out between the trapped travellers and the demonstrators, aged mainly between 18 and 35.
A stranded car was blaring its radio and suddenly the highway listeners heard the Lebanese prime minister speaking live. The crowd fell silent for a couple of minutes.
Then they broke out into polite applause, no more, as prime minister Saad Hariri announced that he was bringing "a shock" to his countrymen: he had decided to meet the demand of the demonstrators and resign.
Not only would he cede power but his cabinet would be dissolved.
"While it's risky, I think it was a masterstroke," said Sami Balkan, a Hariri loyalist whose white van had also been snarled up in the traffic jam.
"He's doing this to get rid of the bad people in his cabinet, and he will probably be asked to find technocrats to take all their places. Good."
As Hariri headed to the presidency to hand in his resignation, Sami pointed out that one of those being forced out of office is the foreign minister – the son-in-law of the Lebanese president Michel Aoun. This son-in-law is regarded by demonstrators as the most brazenly corrupt figure in a ruling elite that, they allege, has brought high inflation, poor services, high youth unemployment and stark inequality to a nation that should, with its sophistication, be well-off.
A protester who earlier had been highly suspicious of me taking photographs on my smartphone, and had demanded to know if I was working for pro-government forces, suddenly changed his attitude.
I rode pinion on his motorbike as we squeezed past stationary cars – enduring occasional knee or mirror bumps. The mission: to try and take some video of celebrating Lebanese at outdoor cafes alongside the traffic snarl-ups.
But the cafe clientele were calm and therefore unphotogenic.
We weaved our tortuous way back to my vehicle, arriving just as the roadblocks were being removed by the demonstrators.
The wave of unrest began 13 days ago. The government had declared it would impose a service tax on people who used social media – especially to make phone calls via WhatsApp – hence harming the elixir of modern youth worldwide.
Though that rash pronouncement was soon withdrawn, the ball had started rolling. More and more people gathered each day until last Sunday there were said to be somewhere between half a million and a million people on the streets – this in a country whose total population is just 6 million.
It was hardly a message that could be ignored by the government – especially as the country's banking system was nearing collapse with the staff unable to get to work.
But the government in the form of its cabinet does not hold the real power. Behind the ruling elite lies Hizbollah, a hardline Islamist movement which has gradually taken effective control of the country.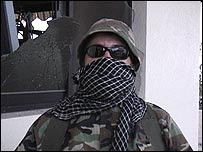 Its longtime leader Sayed Hassan Nasrallah warned only a few days ago that the toppling of the Hariri government could lead to civil war.
We know now who's in control of the highways. Who'll be in control of the country is a much more difficult question
" We've only won Part A," said Sami. "What, we wonder, will be Part B?"