Hosni Mubarak is dead. We recall some of his best and worst moments.
26 February 2020
(Paul Martin, who was based in Cairo from 1978 to 1983 as a correspondent for the BBC and US National Public Radio and also covered Mubarak's demise in 2011, recalls the man and some of his high and low moments.)
The fact that not even the master of ceremonies of the usually well-researched White House could pronounce the name of the leader of his country's key ally in the Middle East spoke volumes.
All the world's focus had been on Sadat, – portrayed as the heroic peace-maker, the Nobel Prize-winner. He was the darling of the Western, and in particular the American, media and in demand from the glitterati worldwide.
Mubarak had been appointed as vice-president by Sadat, apparently in the belief that he had no power-base and not enough ambition or even savvy to unseat him. Certainly, he was never considered an important decision-maker: in fact as an apparently powerless vice-president he had been the butt of many disparaging jokes on the witty Egyptian street.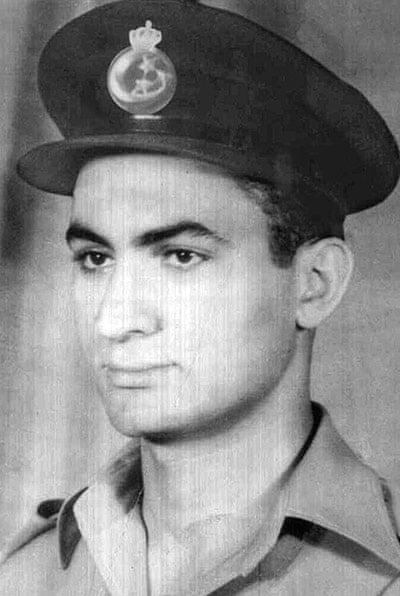 Yet once installed as President he managed to cling to power, and consolidate it, for close to three decades.
His style of leadership was markedly different from Sadat's, a possible insight into his longevity.
Mubarak was wily, and knew that he needed to change the fractured relationship between the Arab states and his country, by far the largest in the Middle East and North Africa. All the other Arab states had expelled Egypt from the Arab League and had imposed a boycott of Egypt politically and in trade following the Egypt-Israel peace treaty signed at the White House in 1979.
Interviewing Mubarak was a total contrast to the face-to-face encounters I had with his predecessor. Sadat loved the dramatic denunciation or the flamboyant declaration; Mubarak spoke as if he was delivering a military communique.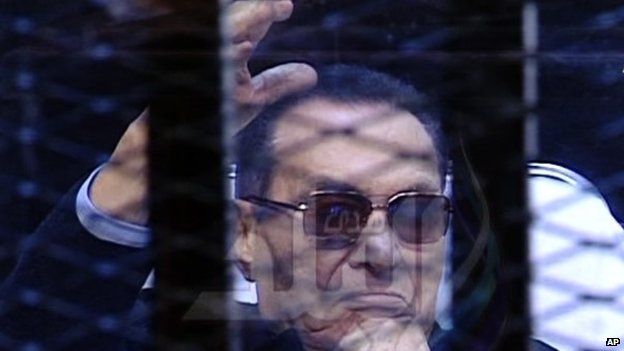 He could not afford the grand gestures of his predecessor – in fact, aware of Arab and popular Egyptian sensitivities, Mubarak did not visit Jerusalem during the Sadat era nor in the first decade of his own rule.
When he was obliged to go to Israel after its leader Yitzchak Rabin was assassinated by a Jewish zealot, he chose to wear a baseball cap to the funeral. In stark contrast, King Hussein of Jordan, who led the only other Arab state to have signed a peace treaty with Israel, chose to wear a Jewish 'kippa' (skull-cap'). It would have been a sign of respect for Jewish traditions ( covering one's head with a circular small hat) at a solemn or religious occasion. But Mubarak would have calculated that a photo of him with a kippa would have damaged him in the Arab world, giving an impression he had somehow become an agent of Israel.
On an international level, Mubarak needed the political and in particular the economic support of the United States – especially as his country's industrial output dropped while its population expanded and its unemployment rate soared (despite massive disguised State hiring of people for almost useless bureaucratic jobs).
He relied especially on oil production in the Sinai desert, handed back to Egypt by Israel in terms of Sadat's peace treaty with Menachem Begin.
Egypt also earnef major revenue from dues paid by shipping sailing through the Suez Canal. And the third pillar of support for the economy came from remittances back to Egypt from Egyptians working in the rich Gulf countries.
Domestically, Mubarak showed the same disdain for democracy as his predecessors Sadat and Nasser. When he was elected President, a few months after Sadat's assassination, there was only one candidate on the ballot paper. Egyptians could vote yes or no.
I went to the vote count at a counting-station in the southern Cairo suburb of Maadi. There, an election official showed me proudly how the vote was going. He pointed to a stack of ballots showing every one had voted for (not against) Mubarak. Impressive, except every one of them had a mark made clearly by the same pencil in exactly the same way.
One of his lowest moments, I felt, came in the wake of the World Trade Center destruction in 2001. The man named as having flown the plane into the first tower, Mohamed Atta was Egyptian. However Mubarak declared in an interview with a Lebanese newspaper that it was impossible for any Egyptian to have done it.
Mubarak had been a pilot and rose to head the Egyptian air force before becoming Sadat's vice-president. He said it took far too much training and skill to fly a Boeing aircraft, so the American intelligence services had got it wrong.
He even allowed the Egyptian mass-murderer's father to hold an extraordinary press conference in Cairo, during which he said his son was still alive … as he had spoken to him by phone 24 hours after the 9-11 attacks happened.
Conspiracy theories are hugely successful in Egypt. People even believed a shark attack off the coast that killed a tourist had been masterminded by Israel. The source of this 'information' was none other than the Mubarak-appointed Governor of the South Sinai region of Egypt.
The remarks about Atta were all the more astonishing, coming from a leader who had been a bomber pilot and had headed the Egyptian airforce before being promoted to Sadat's vice-president.
He was able to claim some of the credit for a reasonably successful Egyptian war effort in 1973. To this day the only portraits of Mubarak that were not removed (even the metro underground railway station in central Cairo was no longer named after him) can be found in the 1973 War Museum.
Mubarak also managed to appear close to death during his various court appearances – theatrically wheeled in on a stretcher and apparently unable to move. People who visited him in his suite at the Maadi military hospital told me that in fact he was walking around and lucidly discussing political affairs.
This is a summary of his life provided by the BBC:
During his rule Mubarak survived at least six assassination attempts – the narrowest escape shortly after his arrival in the Ethiopian capital, Addis Ababa, in 1995 to attend an African summit, when his limousine came under attack.
Besides his knack for dodging bullets, the former air force commander also managed to keep a hold on power by positioning himself as a trusted Western ally and fighting off a powerful opposition movement at home.
The Soviet-trained fighter pilot with a life-long love for aviator sunglasses commanded Egypt's air force during the 1973 war with Israel.
As Mubarak went on to lead the North African country, he relied heavily on the armed forces and security services to ensure stability and security, while maintaining close ties with Western powers that delivered billions in military aid.
How he fell and what then? – the BBC's account of happened:
The mass protests that eventually brought down Mubarak were an explosion of popular anger against his police state and the corruption and nepotism that to many marked his rule.
Mubarak then spent years in detention for his role in the deaths of hundreds of protesters but was freed in 2017 after the convictions were overturned.
In the post-Mubarak years, Egypt was torn by political turmoil — bloody unrest in the streets, the short-lived rule of Islamist president Mohamed Morsi, and his 2013 ouster by Sisi, another military man, who reimposed strict police powers.
Dozens of Mubarak supporters came Wednesday to mourn Mubarak, among them Samir Gaafar, 59, who was wearing a flowing galabeya tunic and holding a picture of the ex-president with a message denouncing the 2011 uprising.
In a televised address on 1 February 2011, following mass protests in Cairo and other cities, Mubarak announced he had decided not to stand for re-election later that year.
Protests continued and on 10 February he appeared on state television to say he was handing over powers to his vice-president, but would remain as president.
The following day Vice-President Omar Suleiman made a terse announcement saying Mubarak was stepping down and the military's supreme council would run the country.
By late May 2011, judicial officials announced that Mubarak, along with his two sons – Alaa and Gamal – would stand trial over the deaths of anti-government protesters.
So began a protracted series of court appearances – with the former president often been seen in the dock in an upright stretcher wearing his trademark sunglasses.
He steadfastly argued his innocence – telling a retrial in August that that he was approaching the end of his life "with a good conscience".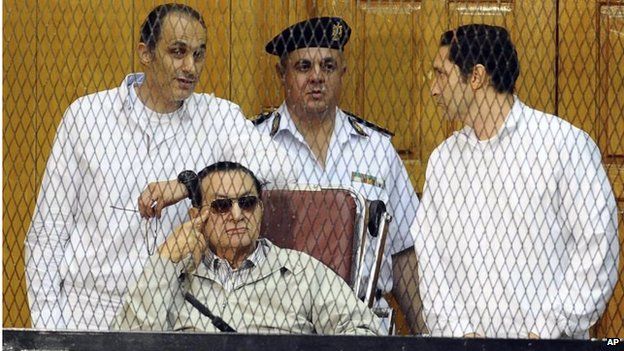 On 2 June 2012 he was found guilty of complicity in the murder of some of the demonstrators who took part in the wave of protests that began on 25 January 2011. Along with his former Interior Minister, Habib al-Adly, he was sentenced to life imprisonment for his crimes.
In January 2013 a court upheld an appeal against Mubarak's and al-Adly's convictions and granted retrials. Mubarak and his sons were also ordered to be retried on corruption charges for which they were originally acquitted.
Mr Mubarak was released from prison in August that year but placed under house arrest before being transferred to a military hospital.
In May 2014, Mubarak was found guilty of embezzlement, and sentenced to three years in prison. Alaa and Gamal were sentenced to four years each. The convictions were overturned in January 2015, but a retrial reinstated the same sentences.
An appeals court upheld the sentences a year later, but Alaa and Gamal were freed because of time already served.
In November 2014, Mr Mubarak was finally acquitted in a retrial of conspiring to kill protesters during the 2011 uprising. At the same time, he was also acquitted of corruption charges involving gas exports to Israel.
In March 2017 Egypt's top appeals court upheld Mr Mubarak's acquittal and he went free, for the first time in six years
Personal details:
Born in 1928 in a small village in Menofya province near Cairo, Muhammad Hosni Sayyid Mubarak insisted on keeping his private life out of the public domain while president.
Married to a half-British graduate of the American University in Cairo, Suzanne Mubarak, he was known to lead a strict life with a fixed daily schedule that began at 0600.
Never a smoker or a drinker, he built himself a reputation as a fit man who led a healthy life.
In his younger days, close associates often complained of the president's schedule, which began with a workout in the gym or a game of squash.
He was sworn in as president on 14 October 1981, eight days after the Sadat assassination.
Despite having little popular appeal or international profile at the time, the burly military man used his sponsorship of peace with Israel to build up his reputation as an international statesman.
In effect, Mubarak ruled as a quasi-military leader when he took power.
For his entire period in office, he kept the country under emergency law, giving the state sweeping powers of arrest and curbing basic freedoms.
The government argued the draconian regime was necessary to combat Islamist terrorism, which came in waves during the decades of Mubarak's rule – often targeting Egypt's lucrative tourism sector.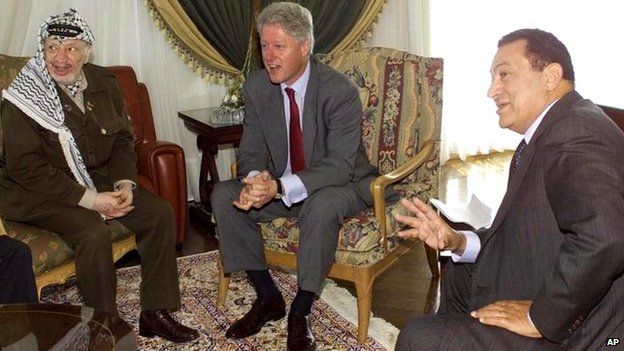 He presided over a period of domestic stability and economic development that meant most of his fellow countrymen accepted his monopolisation of power.
But towards the end of his tenure in power, Mr Mubarak felt for the first time the pressure to encourage democracy, both from within Egypt, and from his most powerful ally, the United States.
Many supporters of reform doubted the veteran ruler's sincerity when he said he was all for opening up the political process.
Ahead of his declaration that he would not to stand again for the presidency, the US had heaped pressure on him to stand aside, calling for an "orderly transition" of power to a more democratic system.
Mr Mubarak won three elections unopposed since 1981, but for his fourth contest in 2005 – after a firm push from the US – he changed the system to allow rival candidates.
Critics said the election was heavily weighted in favour of Mr Mubarak and the National Democratic Party (NDP). They accused the Egyptian leader of presiding over a sustained campaign of suppression.
The length of his time in power, along with his age and possible successors, had all been sensitive subjects in Egypt until the mass protests allowed the Egyptian people to find a voice.
People around Mr Mubarak said his health and vigour belied his age – although a couple of health scares served as a reminder of his advancing years.
Rumours about the president's health gathered pace when he travelled to Germany in March 2010 for gall bladder surgery. They flared every time he missed a key gathering or disappeared from the media spotlight for any conspicuous length of time.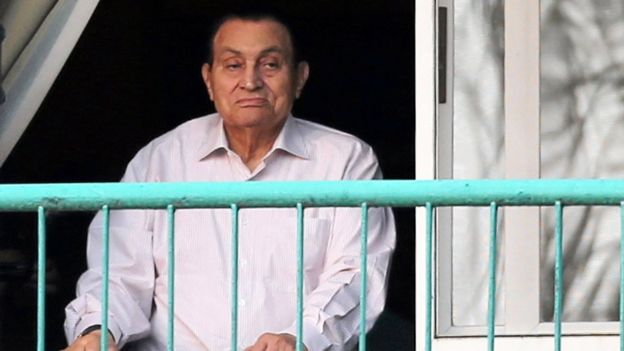 However much Egyptian officials tried to deny them, they kept circulating, with reports in the Israeli and pan-Arab media.
The days of mass protests in Egyptian cities prompted Mr Mubarak to finally name a vice-president. On 29 January 2011, intelligence chief Omar Suleiman was elevated to the role in what was seen as an attempt by Mr Mubarak to bolster his support in the military.
Two weeks later Mr Mubarak's three-decade rule was over, and in March he was under arrest.
In the past, Mr Mubarak had said he would continue to serve Egypt until his last breath.
In his speech on 1 February 2011, he said: "This dear nation… is where I lived, I fought for it and defended its soil, sovereignty and interests. On its soil I will die. History will judge me like it did others."