Exclusive: Archbishop Tutu's son on his own, and his father's, and his family's strengths and failings… and what his father has taught him about life, cricket, and forgiveness.
31 December 2021
By Paul Martin.
Archbishop Desmond Tutu's only son has revealed how the most respected and admired clergyman in South African history had to battle with rifts in his own family — and sometimes with his own explosive temper.
"I want people to see my dad as a human being with human frailties — not just as a saint-like figure," said Trevor Tutu in an exclusive interview from his home overlooking the Atlantic Ocean. He noted that, like his own father, the bay had two names and two contrasting characters: Cape of Good Hope, and Cape of Storms.
"Dad could be explosive. Sometimes he would be really frightening — especially when he got the feeling that people were being denigrated," said Trevor Tutu.
"I can't blame him for it, but I somehow have inherited the world's most vicious temper."
Trevor, 65, sees this as a multi-generational Tutu trait. After all, the Archbishop himself revealed that his father, Trevor's grandfather, had been vicious to his wife, Trevor's grandmother.
"Cowering in fear as a boy, I had not been able to stand up to my father or protect my mother. So many years later, I realise that I not only have to forgive my father, I have to forgive myself," the Archbishop had once candidly written.
Trevor said he now feels deeply grateful that, just as Desmond Tutu had eventually forgiven his father, The Arch appeared to have forgiven his son for his serious shortcomings.
The Tutus with their son Trevor. Courtesy of the family. For correspondent.world only
His father once wrote ( in 2014 ): "As a father myself, raising children has sometimes felt like training for a forgiveness marathon…As our own children grew, they found new (and remarkably creative) ways of testing our patience, our resolve and our rules and limits. We learned time and again to turn their transgressions into teaching moments. But mostly we learned to forgive them over and over again, and fold them back into our embrace."
Trevor acknowledges he has been a difficult but loving son. "I learned so much from my dad, especially his attitude to others. He taught me the nobility of people — from the street-sweeper to the shop assistant. `Look into their souls and you will see God,' he would tell me."
(Above) Desmond and Leah Tutu, in Soweto, clutching their child.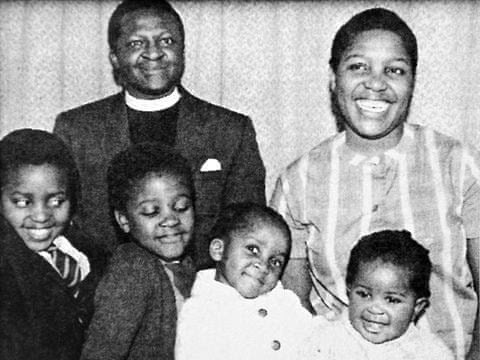 A photo taken in England around 1964 shows Desmond Tutu, his wife Leah, and their children (from left) Trevor Thamsanqa, Thandeka Theresa, Nontombi Naomi and Mpho Andrea. Courtesy Tutu family.
Nelson Mandela spent his first night of freedom at the Archbishop's official home in what had been (until Tutu's family moved in) the racially segregated exclusively white neighbourhood of Bishopscourt.
They remained close friends, but since Mandela left office as president in 1999 the now Emeritus Archbishop became increasingly hostile to the corruption he saw in government and in a tiny coterie of the greedy newly-rich. Archbishop Tutu coined the sarcastic phrase: "The only time the Gravy Train stops is to allow other passengers to jump on."
"Dad hated the corruption, but also the ineptitude — the fact that they cannot even run the country," says Trevor. "It's so obvious: just drive on our potholed roads and experience our cuts in electricity. These guys are providing proof to the world that darkies cannot get things right.
"My dad hated [former President Jacob] Zuma with a passion," Trevor Tutu continues. "But he remained with a glimmer of hope that [current president Cyril] Ramaphosa might change things for the better. We're waiting."
Tutu's son said the reaction of people from all racial backgrounds and all classes to his father's death had brought him massive hope for the future.
Among his most emotional experiences since losing The Arch on Boxing Day, Trevor Tutu said, was when a white South African came to the family home. "A local guy in his mid-40s, he knelt down at my feet — in the proper Xhosa tribal style –and begged me: 'Please accept my condolences'.
CAPE TOWN CITY HALL LIT UP IN PURPLE AS A TRIBUTE TO DESMOND TUTU
"Since Dad died, I've seen white people in tears outside the Cathedral. There was a white guy comforting a black woman, his arms around her shoulders.
"People here are exclaiming joyously. This is still what my father called us: a Rainbow Nation. We have big possibilities. South Africans are going to get it right — eventually."
Tutu's son spoke of his father's deep disappointment in his final years at the misrule and corruption of the post-apartheid leaders. "These are people ruined everything — they're attacking us like termites burrowing into our bodies.
"The corruption here brought Dad pain like you cannot believe. Dad and I shared that pain. What hurt him most was the rulers' complete inability to understand what South Africa and Africa needs."
Trevor says he now fears huge civil unrest and violence. "I can't see how we're going to avoid an explosion. We have 70 percent youth unemployment. Hello, my friend!"
Yet at the same time life has got better for the middle-class blacks — like himself.
"I can now go where I like, and live an even better life than what I did in London, where I enjoyed student life at Imperial College.. I have been liberated — but go into black townships here and you can see that life for most people there is worse than it was under apartheid. That is the failure of our democracy."
Trevor's own children have had their run-ins with others in he Rainbow Nation, occasionally with a racial tinge. Last week his son Lizo got into a bar-fight: according to Trevor, the young man accidentally rubbed the shoulders of a blonde lady from behind, mistaking her for his actual girlfriend, who also has blonde hair. "Fists were swung — major fisticuffs but no boots in. He's lived to fight another day," Trevor laughed.
His daughter, Palesa, now 37, has been involved in a serious clash with the Tutu family.
She was not one of the grandchildren who spoke at her grandfather's funeral.
Trevor, who wittily refers to himself as "the white sheep of the family", acknowledges he too had driven his parents to the verge of despair, thanks to his rebellious nature.
His own brushes with the Law have included police prosecutions for not paying parking tickets, for alleged drunken driving, and for allegedly threatening to place a bomb on an aircraft.
He escaped lightly. I bailed him out for the parking tickets offences (money his wife paid me back the next day). For the drunken driving charge, Trevor says the Archbishop had originally become furious and had said: "Good, let him rot in a police cell till he learns his lesson", but later, a hugely powerful defence team assembled by his father got him acquitted.
The most serious offence, the alleged aircraft bomb threat, led to a soon-suspended three year jail sentence. Trevor says he had only pointed out to the airport security that they had prevented him taking a flight because he got to the departure gate too late, yet they had already allowed his luggage to go on board and "how did they know it did not contain a bomb? They didn't appreciate my sense of humour."
Trevor said he first started realising how people should not be judged by outside appearances when, as a young student, he went to watch his favourite football team, West Ham United, play away against Arsenal in a muddy FA Cup quarter-final. He had accidentally been standing among Arsenal fans and when his team scored, he leaped up and exulted "with more hand time than Michael Jordan". As he landed he realised he was in very hostile territory.
"I was really scared, especially as an Arsenal fan with huge muscles and tattoos came over and said: 'Oi you! Come here.' I feared the worst. But he became my saviour.
"He insisted on escorting me from the ground as the match finished and protected me till I was on the Tube. Mind you, he advised me: 'Never come this way again!'" Trevor is pleased to point out that West Ham won that match 2-0, and went on to capture the FA Cup, "my most ecstatic sporting moment", he says, apart from South Africa winning the rugby World Cup in 1995 at Ellis Park, not far from his parents' Soweto home.
Trevor does not attribute his own rebellious nature to neglect during his childhood. "Yes, as Dad became more involved in his church and political missions, I was robbed sometimes of Dad's attention. But he cared for all of us. And he taught me to care. He would take us on picnics, to the beach, to sports matches. In England our family was as poor as a church mouse, but we never felt deprived. He made us feel we lived a rich life."
Growing up, Trevor recalls that he and his father shared a passion: for cricket. His father, he says, was a right-hand batsman who also, unusually, bowled leg spin left-handed.
On one occasion, his father let a pre-teenage Trevor play in a crunch cricket match for the 'Rest of the World Clergy' against the English clergy.
"Dad and I opened the batting. I was playing so well, like a kid Ted Dexter with my cover-drives. Then my father ran me out. Afterwards, he was too embarrassed to come inside the clubhouse for tea. And my mum was livid. She warned him, only half jokingly, that her religious beliefs prevented divorce — but not murder!"
Trevor spent much of his childhood (aged 5 to 10) and his secondary school and student years (aged 15 to 24) in London, ending up at Imperial College.
Thanks to our first encounters when I was reporting in the strife-torn 1980s on the South African situation in Soweto and my wife was (illegally) teaching black children there, Trevor and I remain good friends.
He's already booked in a game of golf with me at his local club next week — a resumption of our past golfing encounters, mostly conducted on a grass-deprived course near his former home in Soweto.
During the last years of apartheid, I had been reporting on the South African Open Golf Championships for a British newspaper and was invited to pay a post-tournament round at the snooty whites-only Royal Johannesburg Golf Club, I asked if I could come "with a friend". Trevor reluctantly agreed to come. They let him walk in with me – presumably thinking he was my caddy. We danced on the second green, laughing that a black man was actually playing there.
Many years later, in 2010, I was locked up and threatened with execution by hardline 'internal security' men while reporting and filming in the Middle East. Trevor went to see his father, pleading for help. The Archbishop wrote a firm letter to my captors urging my release, pointing out my anti-apartheid credentials and my "fearless but fair" reporting worldwide. I was released and a beaming Archbishop later hugged me at Cape Town airport, delightedly declaring: "I sprung you from prison!".
I have other fond memories of the personal attention the Arch gave to me and my family. He even wrote some very insightful words of wisdom to be read out at my elder daughter's wedding in 2014.
Trevor said to me in a phone-call yesterday: "Our friendship was like little flowers coming out from the cow-dung of apartheid."
Flowers from cow-dung. That indeed was his father's hope – and ours – for our troubled native land.