Ex-wife says she had no idea her husband was the world's greatest terrorist. After they split, she was terrified Abu Bakr al-Baghdadi would kidnap their daughter. She's still in hiding, afraid of the dead maniac's 'revenge'.
27 October 2019
The estranged ex-wife of Abu Bakr Al-Baghdadi says his death has saved her from an ongoing terror: that the world's worst terrorist would kidnap their only daughter and bring her into what remained of his self-declared Islamic State.
In an exclusive interview by Expressen, Saga, who is now 31, said that after she had fled from him, she was warned that she had to hand their daughter over to him if or when she remarried.
When she found a new husband Saga feared Al-Baghdadi would do what he said. It's happened to others. And, as the girl has reached puberty, the child's father has the right according to Islamic law – which could be considerd strictly enforceable by Baghdadi's hardline family. As he is dead, Baghdadi's full brother, or his father's son (Baghdadi's paternal half-brother) gets precedence. Then his mother's son, and so on.
http://www.daruliftaa.com/node/5385?txt_QuestionID
"In the case of a female, the mother has this right of custody until she reaches puberty. This has been declared at nine years of age. (al-Mawsili, al-Ikhtiyar li ta'lil al-mukhtar, 3/237)
"After reaching puberty, she is in need of protection which the father offers."
In a Hadith the Prophet Moahmmad is quoted as saying a woman is "more rightful of the child as long as you don't marry." (Sunan Abu Dawud, no. 2276 & Mustadrak al-Hakim, 2/207)
Custody remains with the father or his relatives until she marries. (See: Qadri pasha, Hanafi articles, 498 & 499).
Despite her ex-husband's dramatic demise, that fear has apparently not gone away.
"Even after death he has many supporters," a source with good knowledge of ISIS's modus operandi told correspondent.world. "I'm not sure if that nightmare is over for Saga and her daughter – or not."
Now she has to face the horrifying likelihood that, if her daughter had been seized and brought back into the Islamic State, the child's father would probably have killed her – and if she is with other ISIS terrorists, she could die in any future confrontation.
According the US military, al-Baghdadi murdered two of his own children by detonating his suicide belt. (They died inside a tunnel on October 26 2019. Al-Baghdadi was 48.)
"If they ever seize her now, Hagar could die either in further fighting or from another gruesome suicide bomb," the source said.
Saga grew up in a conservative, upper-class family in Baghdad. Her first husband Falah Ismail al-Jasim was a lieutenant in Saddam Hussein's bodyguard unit.
After the fall of Saddam's regime in 2003, the lieutenant and other military personnel launched the Jaish al-Rashedin resistance movement, which fought against American troops in Iraq.
He was killed in action a year after the wedding – just as her sister's husband, also an insurgent, had died.
Now a 'war widow', Saga was having to raise their twin baby boys, Omar and Usama, alone. And she says her father was worried she would be suspected as an insurgency sympathiser or supporter or collaborator, and get arrested – which had already happened to her widowed sister.
One day, she says, her aunt's husband approached her father and told him he knew about a man who was looking for a widow to marry. "I didn't know him, but my father approved the marriage," Saga explains.
Saga says he believes in Sharia law, yet does not want to continue living anywhere in the Arab world. She wants Europe to give her sanctuary – even though her husband's organisation claimed 'credit' for the killings in Paris, Brussels and Manchester.
She admits it is hard to see why the West would want to give a home to a woman who married a mass murderer.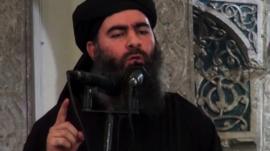 "I never knew what he would become," she said. "He was very mysterious. I thought he was just a university lecturer. We would have dinner together and he would give me orders as to what to bring him.
"But he would disappear for days on end. My relationship with him was very shallow."
She has no complaints, though, about how al-Baghdadi treated her children from her first marriage.
"He loved the children. He was their idol. He was an excellent person in that respect, but my relationship with him was shallow," says Saga.
"As a teacher, he knew how to deal with children better than how to deal with the children's mother."
Saga felt guilty about having married and having moved in with al-Baghdadi. He had not told his first wife that he was going to take another wife. Saga says she left out of a sense of guilt.
"I had been pregnant for a month without either of us knowing. I left him. Yes, you could say that I fled from him. I did not love him, but leaving him had nothing to do with him as a person. I wasn't happy. It was unfair on his first wife. She was very upset. That's why I left," Saga told Expressen.
As to her acceptability in Europe, Saga says: "Where is my guilt? I was married to him in 2008. I was the one who left him. I'm a woman who has been through a lot and who has suffered in prison."
As for her daughter, she quotes a verse from the Koran: "No bearer of burdens shall bear another's burden."
Saga adds: "Must she bear the world's burden? Why should she carry her father's guilt on her small shoulders? What is Hagar guilty of in all this? It's not her fault that she's the daughter of the world's most hunted terrorist", Saga says.
Little Hagar says when she grows up she wants to be a hairdresser – or a lawyer.
Saga's protestations of innocence are not accepted by Lebanese or Syrian intelligence services. They say she needs to explain her apparent links with hardline Islamists.
She admits she made the mistake of travelling from Lebanon to the Syrian capital Damascus, to visit her parents. Her Iraqi father was a businessman who was now living there – and was believed by Syria's intelligence services to fund hardline anti-government groups.
Saga says the Syrians locked her up, trying to extract information about her father and to tape their phone-calls. "It was not because I was accused of any actual links with hardliners," she asserts.
In 2014 she was swapped by the Syrian regime along with over 100 other prisoners in exchange for the release by the Al Nusra Front, a hardline Islamist rebel group, of 13 nuns they had kidnapped months earlier.
"When I was released, I was met [at a rebel checkpoint] by a tall, athletic man," Saga recalls. "He was armed and wore a mask. I think he was wearing an explosive belt when he tried to hug me.
"I pushed him away. Then he said: 'I'm your brother, Khaled!' I cried and collapsed from fear and exhaustion," says Saga.
She claims she had till then not known that her brother was fighting for the rebel group that had sworn allegiance to Al-Qaeda.
Ten days later, the Syrian army stormed the al-Nusra Front's positions. Saga fled to Lebanon, crossing the border illegally, and was arrested.
"When I got to Lebanon they showed me pictures of my ex-husband and asked me if I recognised him. It turns out I was married to Abu Bakr al-Baghdadi.
"It was a shock to find out – seven years later – that I'd married the most dangerous man in the world.
"I smashed a window in anger."
The Lebanese authorities ran DNA tests on all four of her children. The tests confirmed that al-Baghdadi actually was Hagar's father. (The oldest two were from her first marriage, and the youngest was from her new husband.)
Just over a year later, Saga and her children were released from jail as part of a prisoner exchange. She and thirteen al-Nusra Front members were being swapped for 16 kidnapped Lebanese soldiers.
Saga tells us that she asked the Al Nusra Front to let her see her brother Khaled again. But this time he wasn't there. He had been killed in action.
"I had the option of staying in the rebel areas, but I chose not to – otherwise they would indoctrinate my children…or turn them into suicide bombers or killers."
As far back as three years ago Saga was willing to condemn Isis.
"As a mother, I consider what they've done is terrorism," said Saga. "There's murder, blood and brutality."
She says being seen as the ex-wife of the world's top terrorist makes her "sad".
"They're branding me a terrorist but I'm far from all that.
"I want to leave all this behind me – to go to Europe and study education – so I can help people.
"I want my children to get a decent education too.
"If I wanted to live with al-Baghdadi, I could have lived like a princess. They had loads of money. I don't want money.
I want to live in freedom – like everyone else."