Days before Pope's visit to Iraq, a rocket attack is launched on a Coalition military base. Will the Pope's visit be destabilised?
4 March 2021
Just two days before a historic visit to Iraq by Pope Francis, a dozen rockets slammed into a military base for American, British and other Coalition troops.
This follows another attack a few days ago, apparently originating from the disputed oil-rich north-eastern district of Kirkuk. Analysts suggested the attacks are aimed at a propaganda victory for Islamist extremists. They would gain enormous kudos in their long-running war against the West if the Pope's visit were to be cancelled or curtailed.
A US contractor died from a heart attack while sheltering from the rockets on Wednesday February 34 2021, the Pentagon said.
The Pope said his visit would go ahead as planned.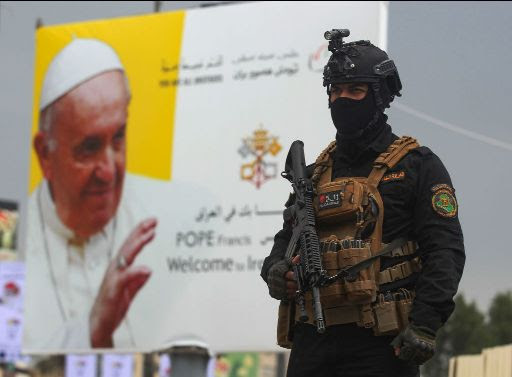 An Iraqi Special Forces soldier guards the Syriac Catholic Church of Our Lady of Deliverance in Baghdad, the day before the Pope is due to arrive there. (Catholic Herald photo)
Pentagon spokesperson John Kirby said the contractor "suffered a cardiac episode while sheltering" and died shortly afterward. He said there were no service members injured and all are accounted for.
The rocket attack was the first since the US struck Iran-aligned militia targets along the Iraq-Syria border last week, killing one militiaman. The stoked fears of another cycle of tit-for-tat attacks, similar to those of last year. Those attacks culminated in the US drone strike that killed Iranian General Qassem Soleimani near Baghdad airport.
The rockets struck Ain al-Asad airbase in Anbar province — fired from east of the base.
In addition to US troops, Danish and British are among those stationed at Ain al-Asad, the same base that Iran struck with a barrage of missiles in January 2020 in retaliation for the killing of Soleimani. Dozens of US service members suffered concussions in that strike.
No one claimed responsibility for Wednesday's attack. The Iraqi military released a statement saying that security forces had found the launch pad used for the rockets – a truck. Video of the site shows a burning truck in a desert area.
The rocket strike came amid concerns about the security of the Pope and his entourage, and hundreds of media, who will all be arriving despite the coronavirus pandemic. The much anticipated visit will include stops in Baghdad, southern Iraq and the northern city of Irbil – known in Biblical times as Niniveh.
The Bible says the prophet Jonah came there from Jerusalem to warn of impending catastrophe — which was averted when the citizens repented from their sins. The Koran, written in the seventh century AD, also describes the Prophet's role, calling him Yunis.
In his weekly prayer address Wednesday, the Pope asked for prayers for the trip, the first ever by a Roman Catholic pontiff to Iraq.
"For a long time I have wanted to meet these people who have suffered so much," said the 84-year-old pope.
The Pope said he would be going to Iraq, where his predecessor John Paul II was not allowed to go in 2000, because "the people cannot be let down for a second time".
"The Iraqi people are waiting for us, they were waiting for Saint John Paul II, who was forbidden to go. One cannot disappoint a people for the second time. Let us pray that this journey will be successful," he said.
The pope made no mention of the airbase attack.
Wednesday's attack came amid rising domestic and regional tensions.
Prime Minister Mustafa al-Kadhemi has pledged to rein in rogue militias. Hardline Iraqi groups have an interest in ramping up the pressure on these groups.
They may also carry a message from Tehran to Washington, which under US President Joe Biden is offering to revive the Iran nuclear deal abandoned by his predecessor Donald Trump in 2018.
In a political and strategic stand-off, Iran is demanding that the US lift sanctions immediately, while the US wants Iran to move first by returning to previous nuclear commitments.
The US had acted on February 26 in response to an attack eleven days earlier by Iran-affiliated terrorists on coalition forces in northern Iraq. That attack killed a civilian contractor and wounded seven Americans.
The Biden administration has said its decision to strike had been so as to send the Iranians a message that the US is willing to retaliate, but in a way that would not lead to a major escalation, the Wall Street Journal reported.
Britain's Ambassador to Iraq Stephen Hickey condemned Wednesday's rocket attack.
"Coalition forces are in Iraq to fight Daesh [Isis] at the invitation of the Iraqi government," he tweeted. "These terrorist attacks undermine the fight against Daesh and destabilise Iraq."