Spy versus spy? Cyberwarriors successfully attacked the website of the Russian intelligence service. Also, the websites of Putin's Kremlin, of the Russian government, and of the Russian defence ministry. Has there been a fight-back?
26 February 2022
LATEST: Checked on 27th April 2022, at 3 40 pm and at 3 54 pm, the kremlin.ru website was not working… but the SVR website was.
President Putin can no longer speak to the world, or to his own people, on his own website. And the website of SVR, Russia's spy agency, has also been infiltrated.
In a daring series of attacks, the Kremlin suddenly lost its means of communication — as did the Defence Ministry and the general government website.
And early on 27th February the Russian Intelligence Service's website had disappeared from the world wide web. And it is still down, when checked at 2:48 GMT on 28th February and on 3rd February 2022 at 11 40am. It had meanwhile reappeared for two days and was up and running on February 1.
It's a supreme irony, and a huge breach of security, that the successor to the Soviet KGB's First Directorate had apparently been hacked — presumably by a foreign agency.
The SVR's boss Sergei Naryshkin had given a rare press interview, to a state-run Russian television station, echoing President Putin's justifications for its Ukraine invasion. But this interview has not been carried on the SVR website.
More insightful, though, were his astonishing comments in April 2018, after the poisoning in Salisbury, England, of a former Russian agent who defected to the West.
Naryshkin was speaking as the Organisation for the Prohibition of Chemical Weapons met at Russia's request to discuss UK allegations that the Kremlin was behind the attack on the Skripals. Putin had already described Skripal as "a scumbag and a traitor."
The West, said Naryshkin, had resorted to unprecedented levels of dishonesty. He compared its handling of the Skripal affair to the dystopian world described in George Orwell's novel 1984, and to the witches in Shakespeare's Macbeth.
"All the norms that regulate intergovernmental relations are given precisely the opposite meanings," he said. "We're very close to the witches of Macbeth with their thesis that evil is virtue and virtue is evil."
He echoed the Kremlin's long-held view that the West's liberal democratic model is approaching decline.
"Seized by fear of the coming changes, the West is drawing a new iron curtain around itself," he said. "The level of hypocrisy used by Washington and its satellites to project so-called western might was truly striking," he added.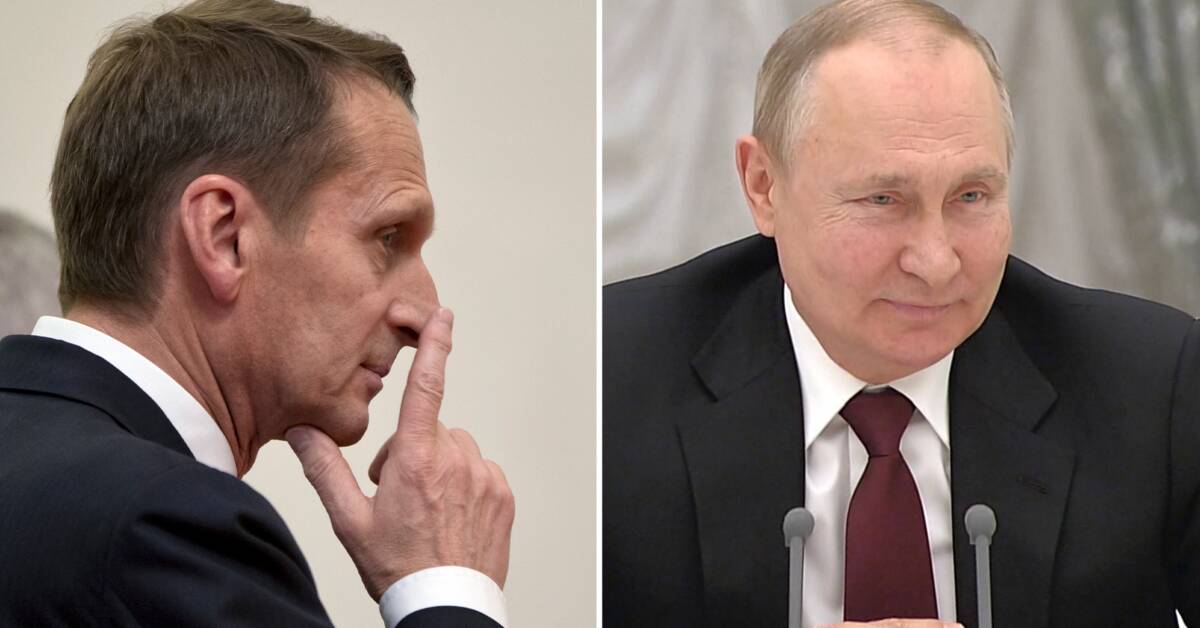 "Our operations are targeting the Russian government," the shadowy hacker movement calling itself 'Anonymous' wrote on Twitter. Over the last two decades, Anonymous is known to have made various cyberattacks worldwide.
Since Friday afternoon the portal of Russia's Defence Ministry has been down, returning a "418 HTTP" error code.
On Saturday morning Putin's own portal, Kremlin.ru went down. It's still unclear if the site was hacked by Anonymous or another source.
The Russian Government's portal, providing access to the propaganda of all its ministries, began running slowly and is currently down.
Anonymous explains in its Twitter feed that it is not targeting the Russian people.
"We want the Russian people to understand that we know it's hard for them to speak out against their dictator for fear of reprisals."
The internet hacking group indicates it will ramp up its campaign against Putin's regime, saying: "We are convinced that sanctions against Putin's criminal regime will have no effect…#Anonymous will intensify cyber attacks on the Kremlin this afternoon (Moscow Times) #OpRussia."
Howver a Russian-state-owned television and internet platform, Sputnik News reportered on March 1 that the tables had been turned.
Hackers Become the Hacked: Anonymous' Site Taken Down Following Declaration of 'Cyberwar' on Russia
© WikipediaSubscribeIlya TsukanovAll materialsWrite to the authorThe Anonymous hacker collective began attacking the Russian segment of the internet Friday in connection with the situation in Ukraine, targeting websites of Russian businesses, media, the military and various government agencies.A hacking group called Killnet claims to have brought down a key website affiliated with Anonymous, as well as the neo-Nazi Ukrainian Right Sector paramilitary group and the office of the president of Ukraine.Users attempting to access Anonymous' official website, 'anonymoushackers.net' on Tuesday afternoon were met with the message "Sorry, that didn't work. Please try again or come back later. 500 Error. Internal Server Error."
Anonymoushackers.net landing page on Tuesday, 1 March, 2022.
Killnet accompanied the gesture with a Russian-language video address, with a shadowy hooded figure against the backdrop of a Russian flag reading out a text.
"Greetings, Russians and friendly union nations. The internet is full of fake information about the hacking of Russian banks, hacks on Russian media servers, and much more. None of this poses any danger to people. This 'information bomb' is merely text, and nothing more. Do not fall for fake information on the internet. Have no doubts about your country," the hackers said. Blaming Ukrainian President Volodymyr Zelensky, the US and its European allies for the current crisis, the hacking group assured that "very soon this conflict will end, and we will find peace. Do not be afraid, Russia, no one and nothing can threaten you." Addressing Anonymous directly, Killnet urged the group to "start restoring your site," suggesting it "looks very pitiful against in light of your threats against our country. "Anonymous launched a "cyberwar" on Moscow on Friday, summoning hackers from around the world to target Russia over its military operation in Ukraine. The group has taken credit for DDoS attacks on Russian government and media websites, the military and businesses. The group's attacks appear to have been uncoordinated, disorganized, and indiscriminate. In addition to attacks on state media, for example, they targeted an independent St. Petersburg-based newspaper, several business outlets, and regional media which do not pay much attention to federal politics or world affairs. Anonymous's hacking campaign began coordination with efforts by Western IT giants and governments, which have moved to censor Russian foreign-language media outlets by blocking websites, shutting down radio and television broadcasts, and taking Russian media social media pages offline."
An intriguing alternative theory could also be advanced: that some or all of the missing websites had been taken down by Russian security agencies plotting to topple Putin. Who knows?