Baseball Diplomacy between Cuba and the USA. Castro's son tells correspondent.world how it all happened.
3 May 2019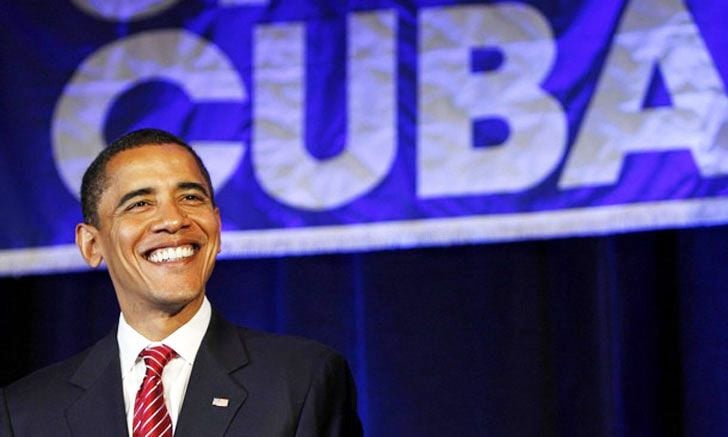 Obama's Deputy National Security Adviser Ben Rhodes had been pushing hard for such a match-up. He's an avid baseball fan and understood the symbolism of an American president watching Cubans and Americans playing sport together at Havana's Estadio Latinoamericano.
"Charting new #CubaPolicy means stronger ties between Cubans & Americans – we all share a love of baseball," Mr Rhodes tweeted.
On the Cuban side the country's national sport, Fidel Castro's son Antonio, 51, the third born to his second wife Dalia Soto del Valle, has been the prime mover in this "baseball diplomacy" – though he prefers to remain in the shadows.
"My father felt sport was shamefully neglected by the old regime when he came to power in 1959, so gave it strong State support as a means to help develop the character of young people. And I am proud to carry that on," Mr Castro-Soto told correspondent.world and MediaZones in a rare interview.
He recalled that at university his father had been selected as the best student athlete in the country. "My father had loved baseball as well as basketball and swimming. And he thought they were very important for children in particular."
In his heyday Fidel Castro would often throw the first ball before a match at the national stadium in Cuba. That decaying stadium was hastily restored and repainted to accommodate a baseball match watched by President Obama..
There had been a previous encounter, back in 1999, between a Major League American baseball team and a Cuban squad, at which Fidel Castro himself had strode onto the field, but for the next decade and a half nothing seemed to be happening, at least publicly, in "baseball diplomacy".
The real breakthrough came in December 2015. At Matanzas, 60 miles from the capital, hometown of many of the island's greatest players and birthplace of the sport in Cuba, the unthinkable was happening.
The American and Cuban flags fluttered side by side over a huge portrait of Cuba's iconic former leader and revolutionary Fidel Castro as his son watched a baseball match involving players from the two countries.
Among the players were four of Cuba's stars – all of whom had officially defected to the USA to play for huge salaries in the highly-lucrative Major League baseball teams. They were officially labelled as 'traitors' back home.
When Fidel Castro swept to power in the 1959 revolution, one of his first priorities was to bolster baseball and other sports with State funding. In a speech soon after his revolutionaries took control of the country, he described the sporting infrastructure as "embarrassing" and said Cuban results in international competitions up till then had been "shameful".
Things did change, and this sporting transformation has been reflected in Cuban Olympic successes, especially in boxing and athletics, but also in baseball. The national team won a medal – totalling three golds and two silvers – in each of the five Olympic Games from 1992 until baseball was removed as an Olympic sport after the 2008 Games.
In his role as a Vice-President of the International Baseball Federation, Mr Castro-Soto has been battling with the Olympic chiefs to get baseball restored as an Olympic sport in 2020. Its potential return should also add to Cuba's future overall Olympic medal count.
Mr Castro-Soto says the astonishing international success of Cuba in recent decades over a range of sports stems from exposing children to a wide range of games and then following up talent through special sports schools.
"After the Cuban revolution in 1959 the country invested in a lot more coaches and children played all sorts of sports. And if they were good at a particular one they were put in a special school to help them ever more.
"We had a special pyramid system – and we started right at the bottom – at the grass roots. It proved particularly successful and something the country is rightly proud of."
But Mr Castro-Soto does not deny that the sport which has ignited Cuba's sporting passions most since Americans brought it to the island in the 1860s is itself in crisis.
Many of the country's top players have fled the country to become stars inside the lucrative ranks of the American Major League Baseball system. To do so, they have either had to defect on tours, or, more recently, get smuggled to the USA via Mexico, usually becoming bargaining chips in the hands of ruthless people smugglers.
They cannot go direct to the USA and play while retaining Cuban citizenship, because an American embargo against Cuba has been in force since the overthrow by Castro's revolutionaries of the America-friendly government in 1959. It was enforced even more strenuously ever since the failed Bay of Pigs invasion and the Cuban missile crisis in the early Sixties.
That match was part of a three-day tour which had included the Dodger's superstar Yasiel Puig and three other Major League Cuban defectors.
By 2017 there were 21 Cubans who had defected and played in the USA's Major League baseball, earning millions per year.
"You have a player who can go from playing on a top team here in Cuba, where you can't even get bats, to making millions playing for the Yankees or the Dodgers or any other Major League team," Mr Castro-Soto said. "We lost a lot of ballplayers." He has been inside the Major League's offices trying to find "find a realistic solution to this problem".
His proposed solution was radical – both by American and by Cuban regulations. "I think our ballplayers who trained here earned the right to go play in other leagues and measure themselves against a higher level.
"They should be able to do it — without fear — and come back and play with their national team. And then in one way or another also play in the leagues here in Cuba. Then no one loses. And they don't have to be separated from their family, from their friends," he said.
There are some cash incentives now for players in the national Cuban team – in 2017 it was a 200 dollar monthly salary plus a 2,400 dollar annual bonus – but this was small change compared with their earning power in the USA.
Mr Castro-Soto is in favour of the Cuban exiled baseball stars being allowed to bring their huge financial resources back to Cuba and even having residency in both countries, without their income being confiscated as capitalist loot.
"Now in Cuba we have artists and musicians who travel outside and bring their money back here. In life, you have a social difference. If one player comes with millions, everybody loves this guy for sure because the baseball in Cuba is different.
"The most important [thing] for people is not the millions. The most important thing for the Cuban people, for the fanatics, is to see this guy play at the highest level."
So it was an astonishing development when Cuba and the Americans allowed four Cuban exile stars to return to their native country and play baseball December 2015 – watched by Mr Castro-Soto. He has also been the national baseball's team doctor, while continuing to practice in Havana as an orthopaedic surgeon.
"It's just the beginning," he remarked during that match.
Clean-cut and fluent in English, the medical doctor seemed a world away the images of his father portrayed under the grandstand. Murals of the revolutionary— bearded and in his green fatigues, gripping a baseball bat — still adorn most of island's stadiums.
As vice-president of Cuba's baseball federation, Mr Castro-Soto is conscious of the way a renewed US-Cuban baseball relationship can affect the youth, increasingly tempted away from baseball towards other sports. "We're conscious of what baseball means to our youngsters," he said.
"Baseball is not just a sport, it's a culture. When a boy is born, his father gives him a bat and ball. Through baseball, we teach our children everything about life."
It was his father, Mr Castro-Soto says, who taught him to love the sport, and has urged him to keep the passion for it aflame among young Cubans. So Mr Castro-Soto made sure that three-day tour by eight American baseball stars last December also included a clinic for 150 children.
Mr Castro-Soto is active in another problem area for baseball – this time involving the entire sport worldwide. It has been barred from the Olympics.
"I'm a Global Ambassador for Baseball," he said, "and I'm helping to try and get it back into the Olympic Games. It would be a great achievement if we could manage that."
Still an active sea-swimmer, Mr Castro-Soto explained why he has chosen to become so involved in the administration and the diplomacy around sport.
"Once I couldn't play any more competitive sport because of my injured knee, I wanted to become a doctor in sports trauma so I could help athletes. And I also became involved in the administration and the development of sports. But baseball is my first love."
That has led him to very difficult arenas in sports-politics. As to what the Communist government of Cuba thinks of it all, Mr Castro-Soto deflected the question. "Let's talk about sport, not politics," he said.
But, as was obvious at the baseball stadium in Havana with its presidential spectators, the two on this island are intertwined.