Denmark is to cull all its farmed minks, after animals caught coronavirus from humans. It fears mutations passed from minks to humans may resist vaccines.
6 November 2020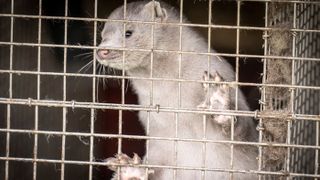 Fears that the Coronavirus causing Covid-19 will mutate and prevent effective antibodies have led to Denmark deciding to cull all farmed mink in the country.
Denmark is the world's largest producer of farmed mink, of which there are 15 million animals located at over a thousand farms. Their fur is mainly used for women's coats.
Besides being very warm, these coats also protect a wearer from rain, as they're naturally coated in oil to repel water.
Several hundred Danish farms have reported SARS-CoV-2 infections ravaging their mink.
Scientists at the State Serum Institute, the Danish government's public health and infectious disease arm, say they have become concerned that the virus, as it has spread, has begun to mutate. This may or may not lead to changes in how it infects cells or how easily it spreads.
If a new variant of the virus spreads to humans, virologists worry that the COVID-19 vaccines currently in development may not work as well against it.
The Netherlands was the first country to report mutations of the virus in mink. Now, twelve people in Denmark have been identified as having caught the mutation of the virus from mink, the Danish Prime Minister Mette Frederiksen said at a media conference.
"We have a great responsibility towards our own population, but with the mutation that has now been found, we have an even greater responsibility for the rest of the world as well," Frederiksen said at the press conference.
Research by the State Serum Institute suggests that, in infected people, the mutated virus shows "reduced susceptibility to antibodies," she said. But no details have been shared about how that conclusion was reached. Until those details are published, statements about how the mutated virus interacts with the human immune system cannot be properly evaluated, Stanley Perlman, a microbiologist at the University of Iowa, told the Times.
Worldwide, more than 50 million mink a year are bred for their fur. It happens mainly in China, Denmark, the Netherlands and Poland. Outbreaks have been reported in fur farms in the Netherlands, Denmark, Spain, Sweden and the US.
Farmed minks began contracting the novel coronavirus in the Netherlands as early as April, and in June several farm workers reportedly caught the virus from the sick animals. Some infected minks show no overt symptoms, while others can develop runny noses, difficulty in breathing and pneumonia, Science Magazine reported. By mid-June, 12 of about 130 Dutch mink farms had cited cases of the mutated virus.
At this point, mink SARS-CoV-2 infections have been reported in several additional countries, including Spain, Sweden and the United States, where thousands of mink were recently culled in Utah. Worldwide, millions of farmed mink have already been culled due to these outbreaks.