Watched by a drone. It shows a surfer facing a very close encounter — with 5-foot shark in Australia.
13 October 2020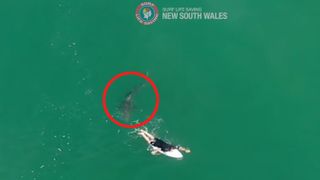 A drone caught a close encounter between a surfer and a shark in Australia.(© Surf Life Saving NSW)
A drone camera caught a close encounter between a surfer and a white shark off the coast of New South Wales, Australia, last week. These drones were immediately ahiled as the best way worldwide to gurard against shark attacks.
"Drones are the future of aerial surveillance – they have proven themselves to be cheaper and more effective than helicopters and are preferred by the community," said Surf Life Saving New South Wales CEO Steve Pearce.
The surfer got a huge shock – but only after he ended his surf and came ashore and saw the drone footage. He would have otherwise never known that a 4.9-foot (1.5 meters) shark came within inches of his legs, writes Stephanie Pappas – Live Science Contributor.
"I was surfing on my own and I heard a splash and a noise and looked around and couldn't see anything," Matt Wilkinson, a professional surfer, said in a statement. "Then the drone came down and told me that there was a dangerous shark in the area, return to the beach.
"I got to the shore feeling a bit weird and the lifeguards showed me the footage and I realised how close it came without knowing it was there. It looks like it's going for my leg and it's changed its mind.
"I feel grateful and pretty weird at the same time but happy it decided not to go for me. I called my wife because I didn't want her to see the footage before I saw it. She doesn't want me surfing for a couple of days now."
UAVs proved vital only a few weeks ago when a large shark was spotted near competitors at a Pro World Surf League event. It was postponed until the area was clear and safe for competition to commence.
UAVs are being flown by Surf Life Saving New South Wales every day during the school holidays at 34 beaches. The UAV flights are funded for drone flights by the New South Wales state government.
"I've been surfing with sharks my whole life and I understand they're there and know enough about them to know they have not too much interest in humans. I'm just glad today the shark reconsidered at the last second," said Wilkinson.