I watched the Velvet Revolution unfold as it played out in Prague. Thirty years later, I meet up again with a woman who became the face of the heroic striking students.
25 November 2019
As the Velvet Revolution was unfolding in 1989 to the amazement of the Czech people and of the world, this 23-year-old spoke eloquently for the students' strike committee that was instrumental in toppling decades of Communist rule over Czechoslovakia.
Now, thirty years later, I have been talking to her again – first by phone and last night in person before she delivered an insightful talk at a packed venue in East London.
Monika says she remembers me "so well".
After the successful revolution she graduated in literature, then became a diplomat, serving at different times in the Czechoslovak embassy in Paris, and official spokesperson for the Ministry of Foreign Affairs. She spent four years in Strasbourg, France, as principal official responsible for cultural matters in the Council of Europe.
Her aim was to bring the Czech state into the European Union as a bulwark against any slide back towards to control or influence of the Russians. She led the principal non-political organisation which successfully campaigned for a Yes vote in the 2004 referendum on accession to the European Union.
She is now CEO of a charity called Naděje, which aims to help people at the margins of society to return to a meaningful life.
In London I see her again, fleetingly, at a Czech and Slovak look-back of the last 30 years.
Monika looks hardly any older, but time flies: I think she already had a child when I last saw her in 1990, but now I discover she also has a 15-year-old son.
In 2002 she had married Peter MacDonagh, an Irish-born landscape architect who designs ecological and sustainable sites for stormwater management, restores lakes and rivers, designs management plans for natural areas, carries out botanical inventories, designs urban forests and green roof installations… quite a hectic environmentally-friendly career!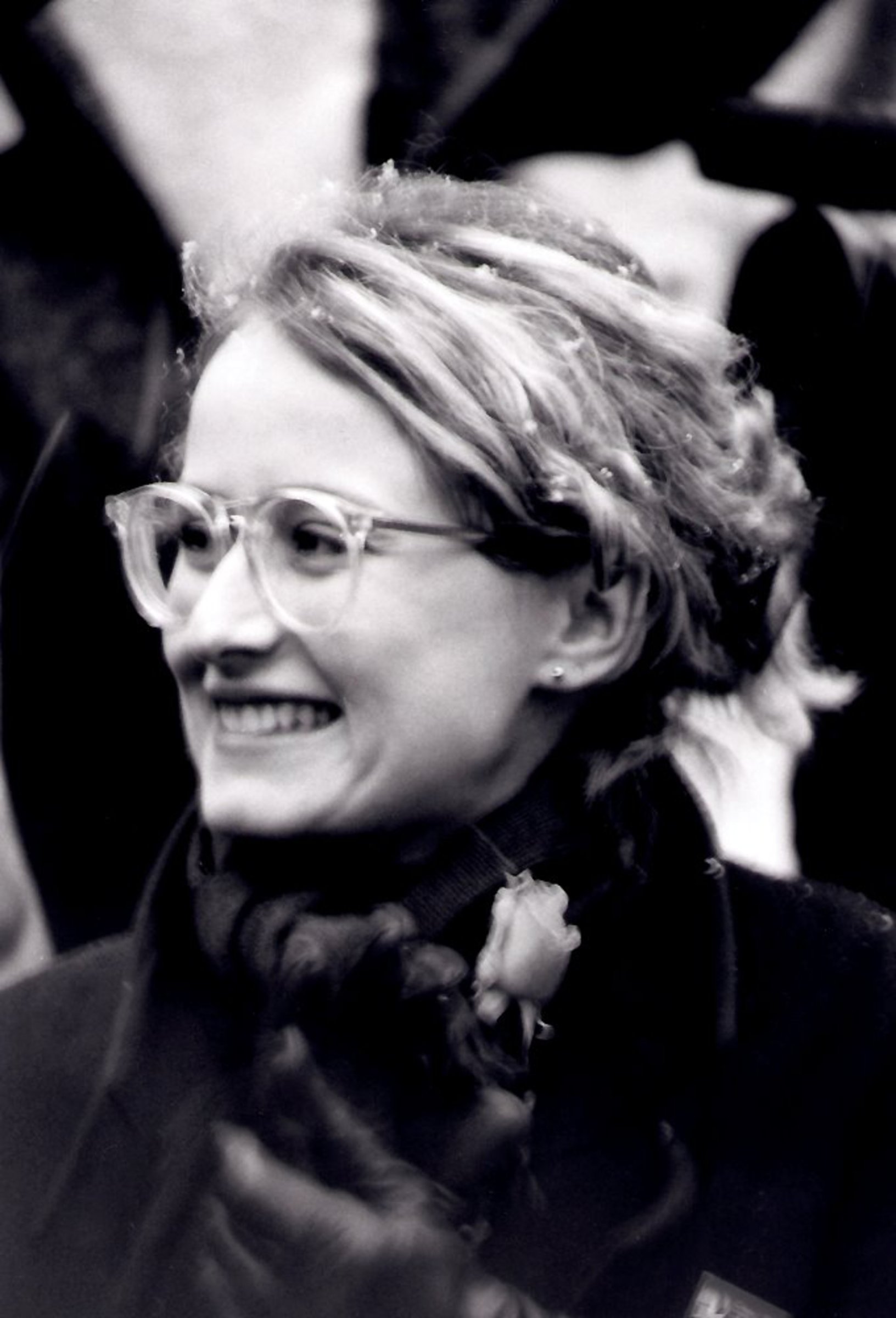 When I had first managed to track her down a week before, and spoke by phone, she had offered: "Why don't you come and chat in a nice warm flat. 2pm on Saturday."
Unfortunately I was committed to be in London and could not get to Prague in time for what would have been a truly inspirational weekend.
Monika was involved in a day of street demonstrations (deja vu!) to make a new political demand: the resignation of the current prime minister and his cronies. "We're expecting a million protesters," she says. They got an impressive quarter-million.
Next day, there were a series of events in Prague to mark the start of the popular uprising – when, 30 years ago exactly, protesting students got surrounded by the police and beaten.
She has just written a book called The Velvet Revolution – 30 Years On, published by Chicago University Press – and she's been giving speeches, including of course on the 17th. That was exactly thirty years to the day since the strike she organised sparked the overthrow of Communism.
When she later comes to London for a special evening to discuss the Velvet Revolution and its continued influence, I get to see her again – for the first time in 29 and a half years.
As the meeting was about to start, I give her a copy of the film we made in 1989 and 1990 and broadcast on the BBC, Wiping the Slate Clean.
Yet we do not meet after her lecture, nor the next day. She tells me the stress of all this has taken its toll and that she is exhausted.
As for my request that she reminiscence for an article and a broadcast, Monika offers a suggestion, via her husband Peter, that deeply disappoints and baffles me. She prefers not meet, he explains, as she needs a full morning to sleep, then has a lunch engagement, then a flight home.
The week before she had told me by phone: "You can start off by simply using any quotes from my book. I trust you."
I read her chapter, but I prefer to use quotes from the recording I have of the event in London, where she had spoken with passion and total recall.
Her assessment of what happened remains full of almost child-like excitement. I'm delighted to discover that after 30 years those trademark glasses of hers still view the world with a rosy tint!
After all it takes a big dollop of trust, optimism and bravery to start a revolution.
June 5 1990 8.30 pm BBC-2: To coincide with BBC2's season of programmes about Czechoslovakia, Paul Martin reports on the effects of the revolution on the education system. It was the students who organised the strikes and demonstrations which swept the Communists from power.
Now the same students have returned to their classes, eager to bring about a revolution in education. Overthrowing the regime took only a few days; the process of re-education will take longer.